We all know Larsen & Toubro Ltd is a famous Indian Multinational Conglomerate Company with the abbreviation of L&T. This company's standard of business interests are in manufacturing, engineering, information technology, construction, and financial services. This article's focus will be on L&T Financial Services. The Managing Director & CEO Mr. Dinanath Dubhashi started L&T Finance Holdings Limited with the values of Ambition, Pride, Integrity, and Discipline.
L&T is a leading Non-banking Financial Company that is fully bed rocked financial products and services, including mutual funds. L&T Finance Holdings Limited was incorporated on 1st May 2008 and was firstly named L&T Capital Holding LTD. This Company provides finance-related solutions to customers based on its lending and non-lending sphere.
L&T Finance Loan Statement
L&T is a non-banking company that offers banking facilities to customers, like financial loans for vehicles, housing loans, firm-equipment loans, microloans, consumer loans, etc. Like the banks, you keep the records of your loan statements in L&T Finance Holdings. There are some qualities a loan statement follows to make people understand their loan amount and the product for which they took the loan.
The document carries important data like your EMIs against the loan, the due date of your payments, outstanding balance, and others. L&T loan delivers value for customers' or investors' dreams that fulfill their needs. The loan statement will help the customers and the company itself to track down the record of every loan they passed, and it will close eventually with the outstanding balance paid.
Steps to Download and View L&T Finance Loan Statement
L&T Finance Service provides a loan statement downloading facility to its customers to keep an eye on it. Customers can view the statement online through the L&T Financial services website, which directs to the loan portal with the maximum details a customer can find.
Step 1: To get into the portal, you have to search L&T Finance Loan Statement and click on the first most link that will appear on the page. It will take you to the L&T Finance loan details page.
Step 2: Here, you have to click on the three-line button on the left-hand side, where you will find some options according to the customer's needs. Click on the last option Customer Support, which will lead you to two more options. Now, click on Customer Self-Help to click on the loan option. Next click the two-wheeler loans option.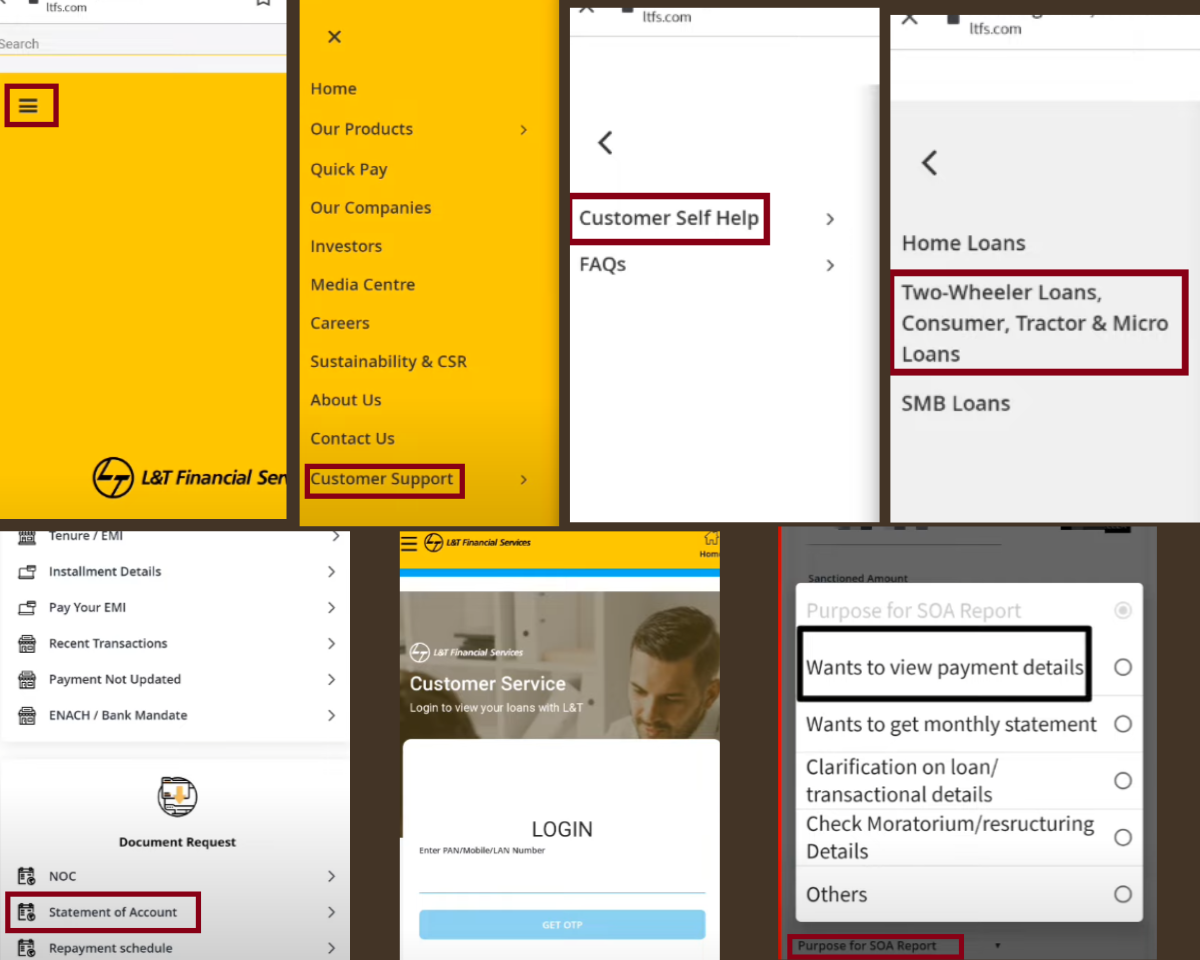 Step 3: Here, you will get to see the option of Statement of Account in order to download the statement. Keep going as per the directions say, and you will be able to get your loan statement. It will be in a PDF format and will send the link by the company straight to your registered email id.
You have to download the PDF with the link, and to open it you have to put in a security password. This password system is for customers' security purposes, and to make it easier company made the customer's date of birth a password and 4 digits of mobile number. To open the loan statement PDF, put the password the way described below in detail.
L&T Finance Loan Statement PDF Password
Every finance company has a loan statement PDF system that contains umpteen data that needs to be secure in the first place. L&T Finance company has a security password for the loan PDF statement for every individual's statement so that you can be assured of protection and maintain privacy.
The company's privacy policy is maintained according to customers' needs, and that's what L&T is good at. The password is not that hard though. The password has been created according to the customer's birth date, so they don't have to hassle with new password creation or worry about forgetting the password. You can put your birth date in DDMMYYYY format as a password.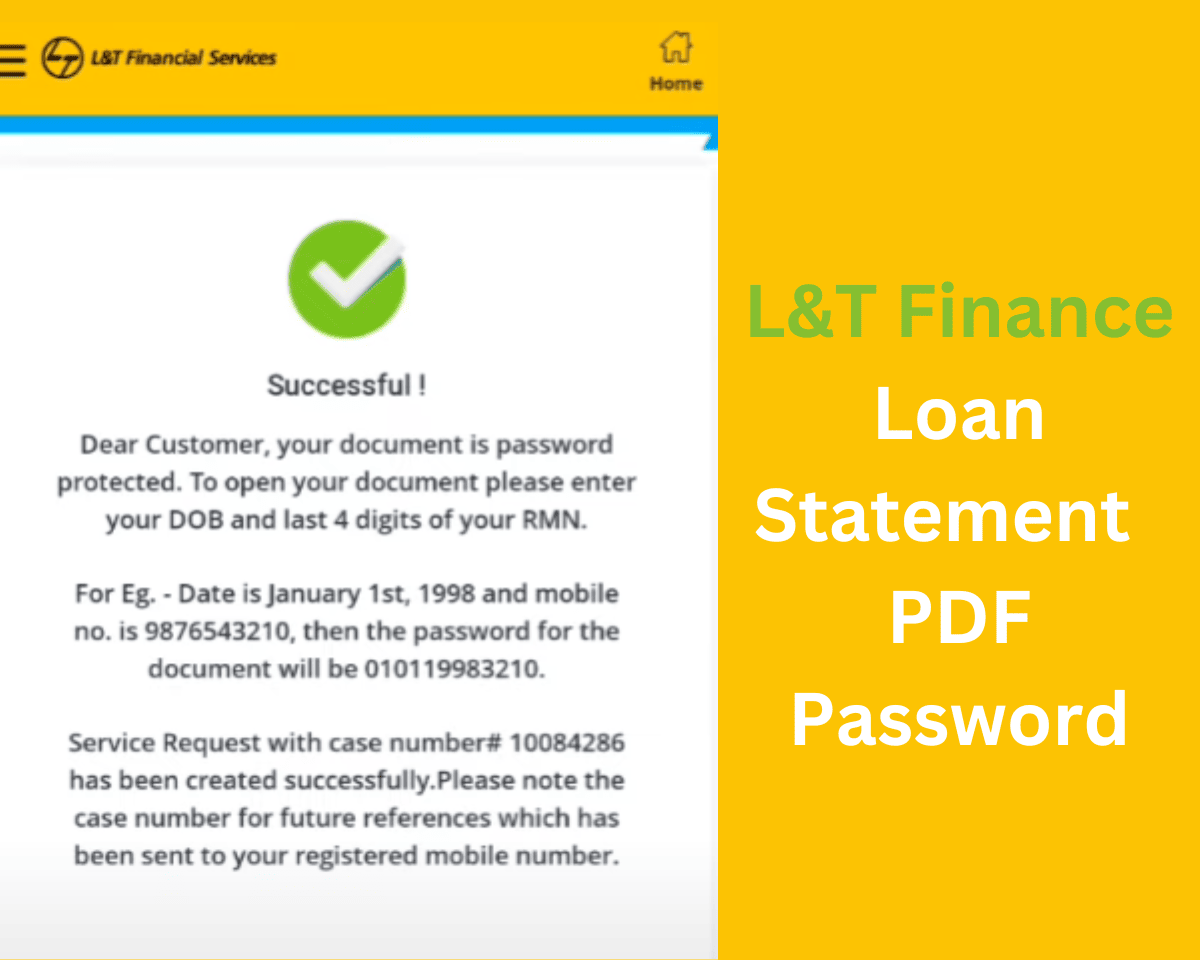 Since it is the date of birth, every customer has gotten a different one, and there's no chance to modify it. You have to type it the way it is mentioned, and the last four digits of the customer's phone number alongside. For example, if someone's date of birth is 13th October 1996, and suppose the phone number is 7869025421, the password will look like 131019965421.
L&T Finance Loan Statement PDF Password Format with Example
| Date Of Birth | Mobile Number | Password |
| --- | --- | --- |
| 2 February 2001 | 8948393828 | 020220013828 |
| 10 December 1990 | 9374678398 | 101219908398 |
| 13 March 2012 | 9474655678 | 130320125678 |
Conclusion
L&T Financial Services is a company with years of experience and millions of reliable customers. The facilities, terms & conditions, and availability of L&T Finance Holdings are bewildering for its customers. However, the customer should have consciousness of their loan.
In the process of downloading or checking your loan statement, you have to remember your LAN(Loan Account Number). It will help to send the OTP to the right customer's phone number. You will surely be able to clear all your confusion regarding the L&T Finance Loan Statement PDF download and view techniques with the steps and information given in the article.