Bank of India is an Indian Bank that is owned by the Ministry of Finance under the government of India and it has its headquarters in the state of Mumbai, India. The Bank of India was founded in 1906 by Ramanarain Ruia and has been owned by the government of India since 1969. There are a total of 51,459 employees working in different branches across the nation.
Since March 18, 2020, Shri P.R. Rajagopal has taken the charge of Executive Director, at Bank of India. The Bank of India provides Business loans, car loans, credit cards, debit cards, savings accounts, current accounts, home loans, loans against property, and many other services to its customers.
In this article, we will tell you how you can check the Bank statement of your Bank of India account using a mobile phone online. There is a small specific function which is 'how to get through the PDF password step' that we will be covering in this article.
Read all steps carefully and you will know step by step how and what password to enter while opening a PDF that has your Bank account statements.
Step To Follow To Open BOI Bank Statement PDF Password
When you download a PDF of your Bank account transaction statement, the PDF asks for a password before letting you see the statement. This is mainly because of security reasons and to prevent hacking. Every Bank has set a unique password for each of its customers to keep their data safe.
However, this password to open the PDF is not set by the customer but by the Bank itself. So let's see what is this password and how to open the BOI statement pdf.
Step 1: To start with the steps to open a statement pdf you have to first download the net banking app of Bank of India which is 'BOI Mobile'.
Step 2: If you already have this app then it's obvious that you are logged in already. But if you haven't logged in then log into the app using your Bank details and don't forget to set a unique password of 4 digits for security which is a mandatory step.
Step 3: Now, go to the account tab and click on it where your account balance is displayed on the page under the savings account option. Click on your account balance option.
Step 4: After that, the page will direct you towards an option where you have to select whether you want a mini statement or a complete statement. For a mini statement, there is no need to download a PDF as the last few transactions are shown on the page itself. But for a complete statement, you have to click on the 'Statement' option.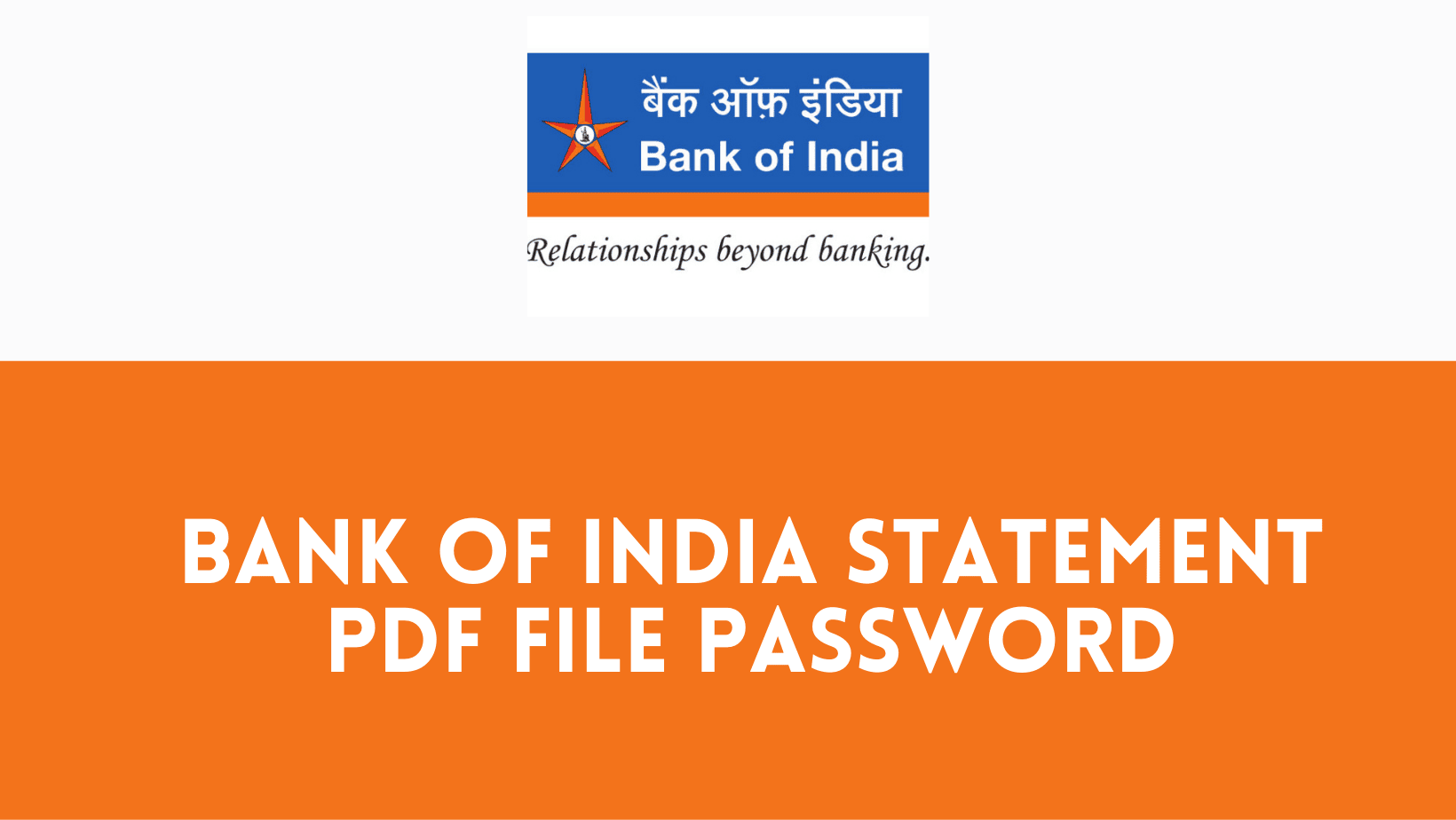 Step 5: Once you click on the statement option, you are once again asked for what time statement you want. You can get a statement for three months, six months, and even a year. All you have to do is put the start date you want a statement from as well as the end date you want statements to.
Step 6: Once you select the dates the app will ask whether you want the statement downloaded and sent to your e-mail or you want it in a PDF format. If you have registered an email your statement will be sent to that email. However, you can also get it downloaded in PDF format directly.
Step 7: When you click on download PDF the page will show you a notification which is an extremely important step in all of it. This notification will show you your password to enter in the PDF to see the statement.
Step 8: The password to open the statement PDF of Bank of India is the 8 digits of your registered mobile number where you have to enter the starting four and ending four. For example, if someone's registered mobile number is 3035278528, his eight-digit password is 30358528.
Once you type the first four and last four digits of your registered mobile number, click 'open' and right after that, you can see the statement. So you can open the BOI pdf password using a registered mobile number with a bank account.
Conclusion
Bank of India is a trusted Indian Bank. The steps written above are the only way you can get your statement PDF password. In case you don't use the registered mobile number or you have changed the mobile number. Then first you have to update your mobile number in the records and then you will be able to see the statement