IndusInd Bank is a good governance private bank in the banking sector that provides access to many financial products and services. It offers quite an easy and secure option for its various valuable services and investments where its customers can get an excellent place to make their transactions comfortably. For example, if you have an account in IndusInd Bank, you must know
how to open Indusind Bank account statement PDF file.
Features and Benefits of IndusInd Bank
Your bank statement makes a lot of information available, so you must check it regularly. You can get a few other advantages of having an IndusInd Bank Account statement, such as:
You can organize your expenses more efficiently if you Keep a regular check on your bank account statement.
If you earn any rewards points on your Debit card, you can check that these points are duly added to your bank statement.
You can download your IndusInd Bank account statement for free, but you must access the Net Banking or Mobile Banking of the IndusInd Bank to get the statement online.
Moreover, most bank customers register in the bank application with their email ID. In this way, they receive important notifications regarding transactions, withdrawals, etc., from their bank on a regular basis. As a result, they can get the same information with a registered mobile number too.
Usually, all the banks use PDF format to send their customers' account details which are sensitive data as far as the account holders are concerned. So the banks provide them proper security by making a password compulsory to open the account statement PDF file. Otherwise, you cannot unlock this password-protected file just with a click. But, you can easily open these statements on your mobile or any device using a password.
How to Download IndusInd Bank Account Statement PDF Password Online?
You can download your IndusInd Bank Account Statement on your mobile or any other device whenever you need it by taking these below given simple steps:
Step 1. Log in to IndusNet Online Banking – IndusInd Bank > click on CONTINUE TO INDUSNET > enter CUSTOMER ID AND PASSWORD > click on SIGN IN > click on Savings & Current Accounts > click on Statement.
Note: Bank customer ID is given in your bank passbook.
Step 2. You can now click on Mini Statement, Download Ad Hoc Statement, or Download Monthly Statement, as per your requirement. Suppose you click on Download Monthly Statement > select and enter the time for which the statement is needed > click on GO option > click on Download option > select PDF option.
Step 3. You will receive your account statement PDF in the registered email ID or mobile.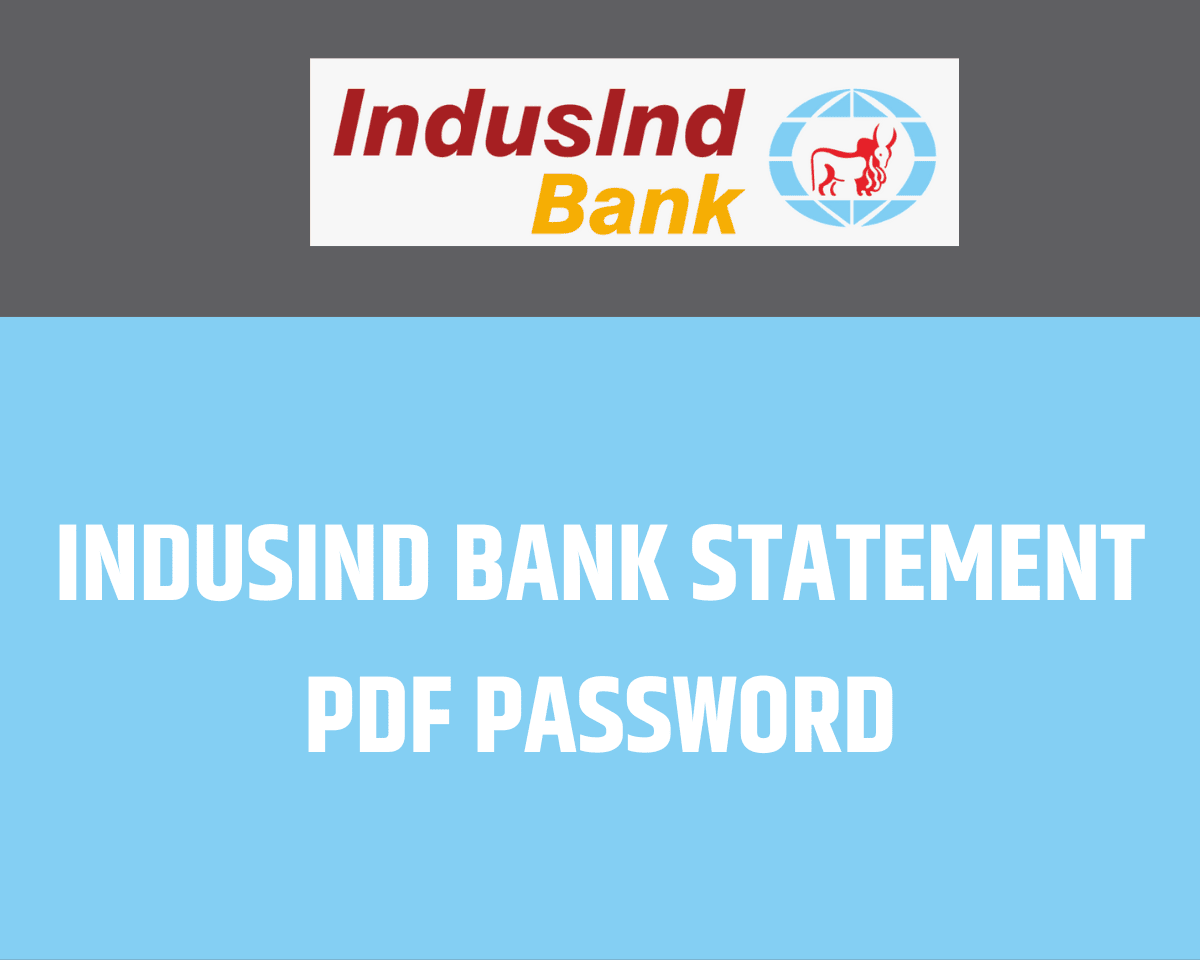 How to Open IndusInd Bank Account Statements PDF Password Online?
You can easily open a password-protected PDF for the Indusind bank statement on your mobile or any other device by following a few below-mentioned simple steps:
1. After downloading your account statement PDF file, you must follow specific steps to preview the statement. You may require downloading a PDF viewer to open the downloaded file on some devices. When you click on the Indusind Bank statement PDF format file, within a few seconds, you will see a message popping up like this: This file is protected, which indicates that you cannot open it usually. Instead, you will have to enter the correct Indusind Bank Statement PDF password.
2. For opening this password-protected PDF file, you must click on the file > enter the password in two parts, which consists of your name's first four characters as mentioned in your bank account in the first part and your date of birth in the ddmm format as the second part. But ensure that no space will be given between the two parts. For example: if your name is Veer Singh and your date of birth is 14 July 1999, your password will be veer1407.
3. The PDF file will open on your mobile, laptop, or any other device so that you can download, print, and keep it safely for future needs.
Wrapping Up
You can view and check your transaction details using your customer ID by following the above-mentioned simple steps. And this is quite a safe and professional way to keep your account details regularly checked under your own control. The Indusind Bank features make it very convenient for its customers to receive all the valuable information periodically, and they can keep these details for reference in the future also.