Internet technology, especially in recent times, can be considered a special reward is given to all of us throughout the world, by virtue of which everyone's life has improved a long way. It has allowed an option for a more particular and safer banking system.
KVB Bank provides its customers with various products, services, and investments. Generally, like many other banks, this bank also regularly sends a PDF account statement to customers. These statements can be viewed in a PDF format on their registered email ID or mobile number.
If you were looking for the process of how to open the Karur Vysya Bank statement PDF password, you need not worry any further now. You can just follow these simple steps to get the statement on your device.
How to View Your Karur Vysya Bank Statement
For viewing Your Karur Vysya Bank statement on a mobile or any other device, you can conveniently use the below-given simple and quick steps for the same:
Log in to the Karur Vysya Bank mobile app and click the services option > click on service requests > Select the Account Statement Request.
You will get an OTP. Write down this OTP and click on verify > Next, scroll to the Duration option and click on one month, two months, or custom as per the time frame for which the statement is needed. Then click on statement type > click on email statement > click on Proceed > check the given information > click on confirm.
You will get a confirmation message of your request for a statement from Karur Vysya Bank, and you will get your account statement PDF file within 24 hours on your registered email ID > download and save the file.
What is the Password For KVB Bank Statement's Password Protected PDF?
Please note that, like other regular PDF files, you cannot normally open these account statement files by going to the open option and clicking. Rather, being a customer, you must know how to unlock your bank statement so that you can access your transaction summary and other important information that is received in an E-statement format.
Account statements are sensitive data for account holders. Usually, downloaded account statement PDF files will remain on the customer's mobile or any other device indefinitely. Therefore, for the security of the customer's account, all the banks must follow a password protection protocol so that it may not tamper.
You must use a particular set of characters to open such a password-protected PDF file format. Account holders can safely keep their accounts in their own ways and avoid potential mistakes. Therefore, it is essential to enter a password and some other information to access and open the account statements.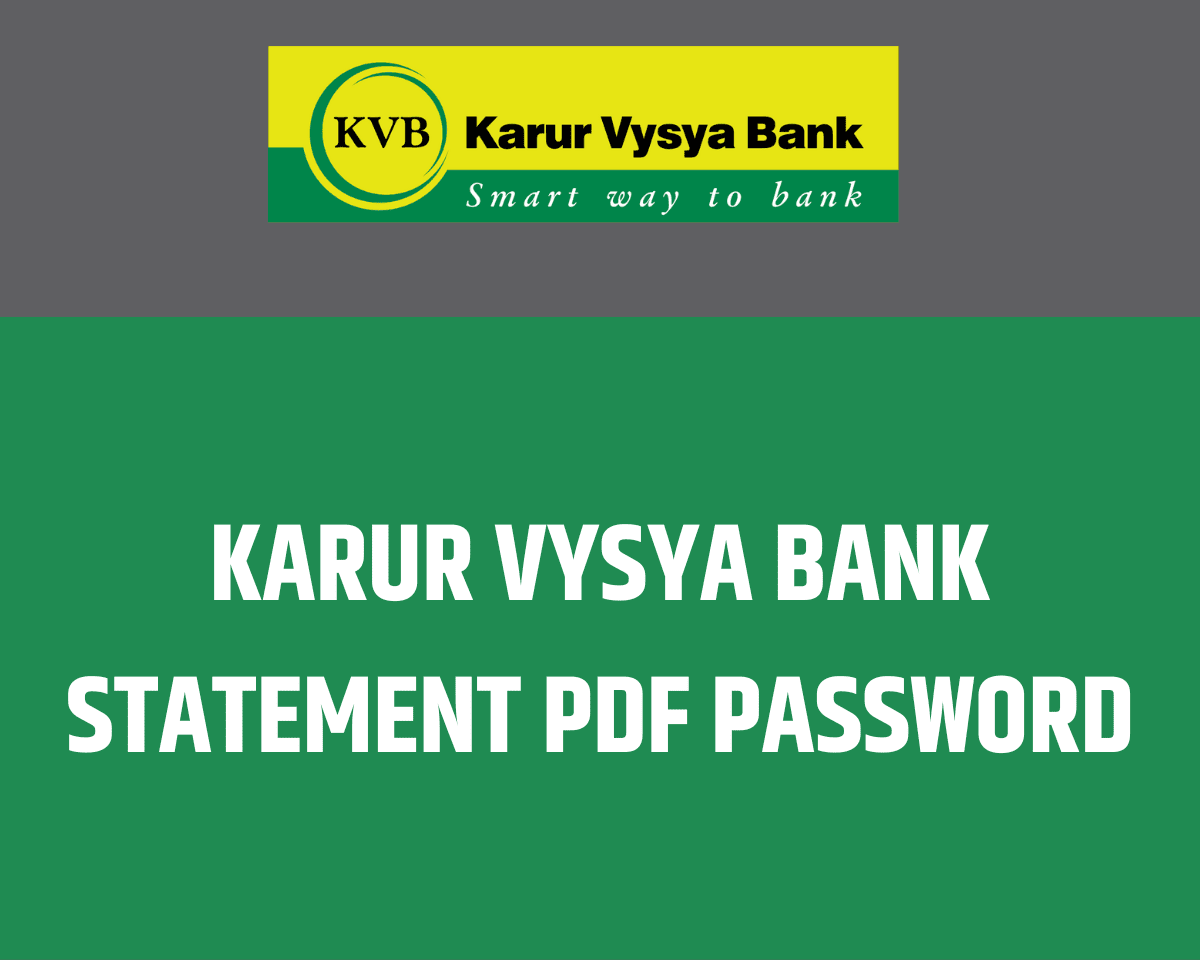 How To Open Karur Vysya Bank Statement PDF Password?
You must get along the below-mentioned simple steps to unlock the KVB Statement PDF file within no time:
Firstly, you must download the PDF format statement of your Karur Vysya Bank on your mobile or any other device > click on the file.
Now, enter your password, which is your Customer ID. Your customer ID is given in the KVB bank passbook.
Note: If you do not have your passbook or cannot locate it, you can approach the KVB bank customer care center, and bank officials will provide you with your customer ID.
When you enter the required information along with your password in the given blanks and options and then click on the open tab, the PDF file unlocks on your mobile or another device.
In this way, you can open your Karur Vysya Bank Statement PDF file just in front of your eyes. You can now easily access your required bank statement on your mobile or any device. Also, you can get these statements printed to keep them safe for future use.
Wrapping Up
Now, we can hope you must be satisfied with the process of how to open the Karur Vysya Bank statement PDF password. It is a safe and professional way to get a bank account statement. Moreover, despite rushing to the bank every time, you can get online information regarding your bank details, which can save a lot of your valuable time. Finally, and most importantly, you need not pay a fee for this. Therefore, this is an additional facility that your bank provides you with extra convenience.