If you are an SBI YONO user and have a savings account in the State Bank of India, you will be pleased to know that you can download your statement with the help of YONO SBI. The statement will directly come to the email registered to the particular bank account. If you don't know how to download the statement and open the pdf file with a password then this step-by-step article is for you.
Steps to  Download Yono SBI Statement PDF
Open your YONO SBI net banking app and see your transactions, you will also be able to see transaction details here. Along with that you will see two icons on the right-hand side, these are the saving options, one will indicate your phone memory and the other is sending transactions to the email.
Once you choose the send to email option, within a couple of minutes the transactions will be sent to your registered email.
Then you can check your email and open the PDF sent to you. Now when you try to open the email, the PDF will ask for a password. Surely you don't know what the password is.
Password to open Yono SBI Statement PDF
Check your email again, the password is in the email itself. In the email, you will see that the YonoSBI pdf password format is said to be [email protected]. However, this is not the password but the hint of what your password is.
The DD here is your date of birth registered with the bank, MM is your month of birth registered with the bank and XXXX is the last 4 digits of your mobile number registered with the bank. For example, if you are born on 23 January and your mobile number ends with 9876. Then the password to open the statement PDF is [email protected].
Let's look at a few other examples as well. If you are born on 20 May, and your mobile number ends with 8007 then the password will be [email protected] If you are born on 24 March and your registered mobile number ends with 8795 then the password will be 24038795.
Once you enter the password to the PDF where it is asked you will be able to see your transactions and print your statement as well.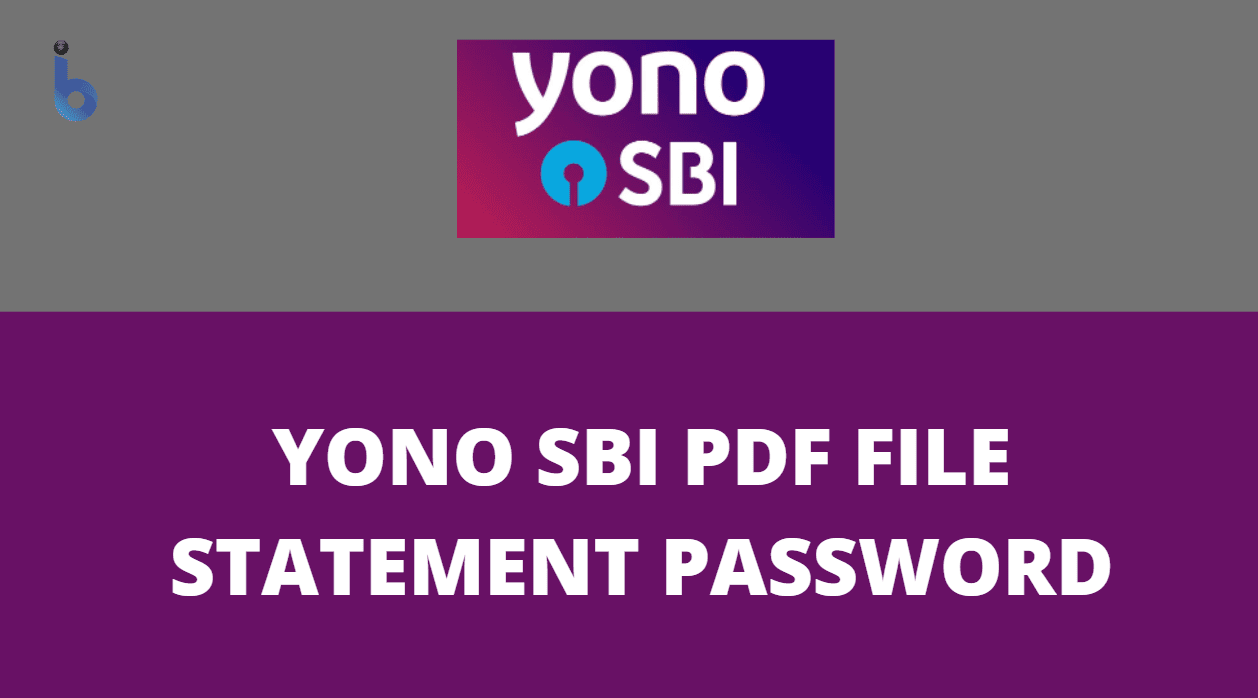 Interesting Facts About SBI
Now let's end this article with some interesting facts about SBI.
With a value of almost 42 lakh crores, State Bank India is the largest lender by assets.
State Bank India has rescued banks like YES Bank, and LIC by giving it a 20,000 crore ballot package.
State Bank India is the largest retail arm in India by a long shot as the bank has 16,000 branches, and 51,500 ATMs.
State Bank of India has a limit to maintain a minimum balance in their deposit account, which is 2,000-3,000 in different areas throughout the nation. And if you fail to maintain that minimum balance then the Bank charges you a penalty and deducts it every month from your account. The lump-sum amount SBI collects from this single penalty is 235 crore rupees from 388 lakh accounts.
You can log in to SBI net banking with the same user id you created with YONO SBI. There is no need to create another user id and password for SBI net banking.
Conclusion
This is the easiest process on how you can download your PDF statement of your SBI account using YONO SBI and what is the password for that. Follow these simple steps and get your password to see your transactions sent to your email in detail that you can print as well.