In the recent era of advanced information technology and by using Internet technology, like other various banks, all the account holders of Bank of Baroda are also being provided with their account details and other banking operations-related information to their registered email ID or mobile number in PDF format. As far as accessing these PDF account statements are concerned, it is almost impossible to open these statements without a unique password. However, if you want to open and use this file, you will need to find a proper process or necessary steps to access the same using the correct password.
You can use the bank statements' downloaded copies for many reasons and necessities. Such as, you can quickly check all the transactions done for a specific period. Also, you can check other financial details such as the interest amounts added correctly and if the bank made some other mistakes. For example, if you are still trying to find a process for opening a Boba bank statement PDF Password, then rest assured, you are at the right site right now. So we are just going to guide you for the same.
How to View Your Bob Bank Statement?
If you were looking for a bob account statement password, then you should follow the below-given quick and straightforward process and instructions :
Log in to your registered email ID and search for your required monthly accounts statement mail sent by the Bank of Baroda. For example, suppose you want to view and check your account details for the month of March 2022, then select and open that mail.
You must download the statement to your device and open it using the PDF viewer.
Now, you will need a password to open this file.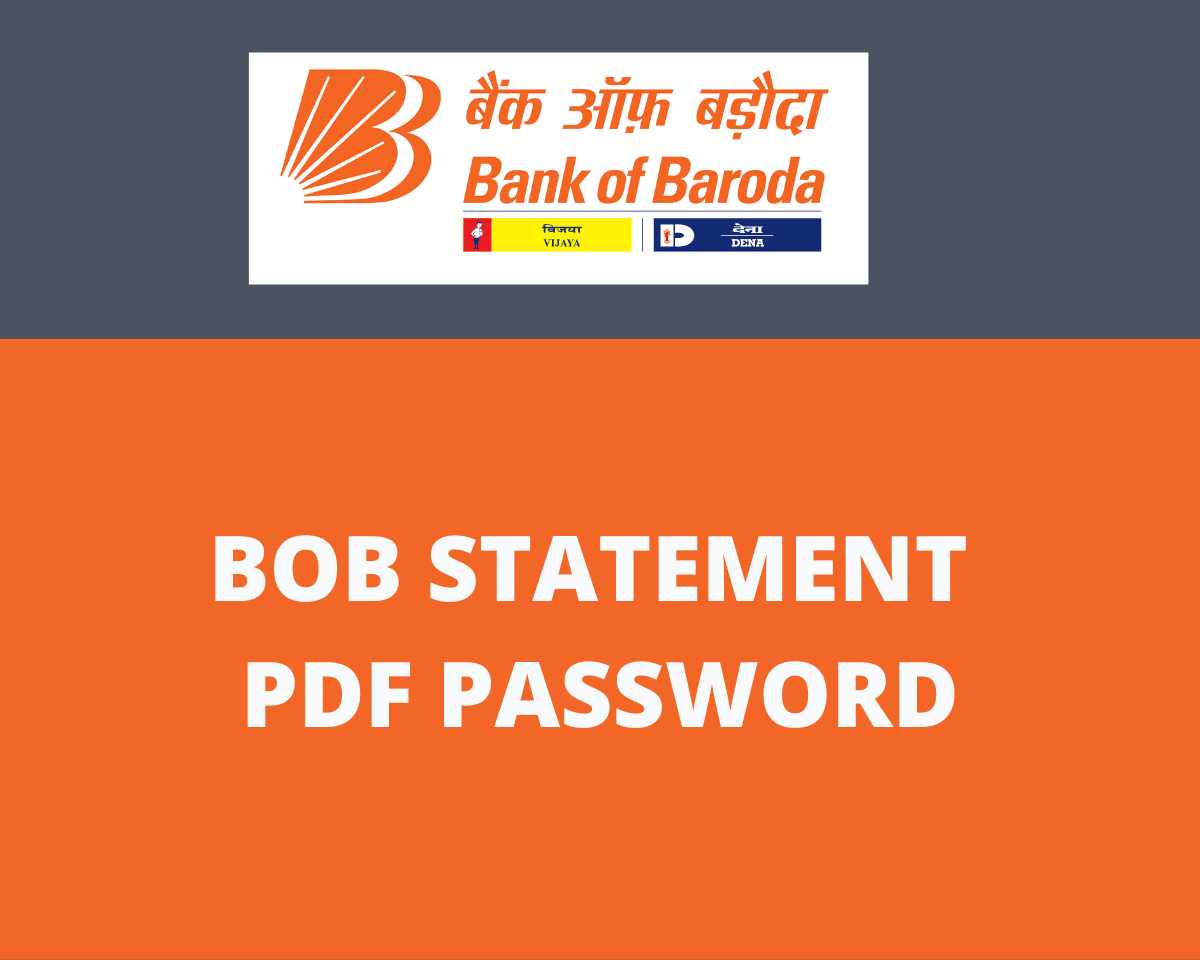 What Is the Password For the BoB Bank Statement PDF?
You will have to go to your email ID, where you can see how to find your password with the help of some examples given there. Your password is created in two parts, which consist of 8 digits. According to the Bank of Baroda procedural system, the first part includes the first four small letters of your registered name. And the second part consists of 4 digits of your birth date in dd mm format. For example, suppose your name is Ravi Prakash, and your birth date is 27/12/1999. Then your password will be "ravi2712".
How to Open a BoB Bank Statement PDF Password?
If you want to open your Bank of Baroda account statement PDF file online, then you must have to follow these simple steps, such as:
Enter your password as required, such as "ravi2712" and click on the Open tab.
Now, you will see that your PDF statement opens before you within a few seconds.
Hopefully, by using the instructions mentioned above, you can quickly learn how to open a Bob statement PDF Password. So that you can open your password-protected statement PDF file.
| Name | Date of Birth | Password format |
| --- | --- | --- |
| Satish Kumar | 19/02/2011 | sati1902 |
| Suraj Chhetri | 13/12/1990 | sura1312 |
| Suman Rani | 30/11/1992 | suma3011 |
A Quick Wrap Up
The PDF file format has become a trendy way among the most prominent and significant Indian banks to share crucial data for over two decades. However, in recent times, almost all banks have started opting to use it in a better secure way to avoid any mistakes with the account holders' information.
Therefore, they are generating the account statement files in PDF format for this reason. Thus, in this way, the customers' transaction privacy is well-maintained and adequately protected while sharing related information. Therefore, all the financial activities are kept secret from other irrelevant and unconcerned people. Finally, we hope that we have cleared your doubts regarding opening a Bank of Baroda statement PDF password through this article.