A bank is for our money security in every Country. A bank works as a money lender and investor in the marketplace. But when it comes to closing a bank account, you have to mention the valid reasons behind it. Because a bank account closing is very unusual. People can close their bank accounts for many reasons for sure like, if the account is dormant, if there are 3 or 4 bank accounts with the same documents, or the bank account is a salary account.
However, the salary account is always been the same, until and unless you leave the job. A salary account will be automatically turned into a savings account when it will not be in use for so long, and that may cause penalty charges that continue with a minus balance.
Today we are talking about Kotak Mahindra Bank and how you can close the Kotak Mahindra Bank Current or Savings account. Kotak Mahindra Bank is one of the best banks in India today and has almost 1600 branches and 2500 ATMs all over India. It is a private company bank and declared as a scheduled bank overseeing their customer's needs.
However, if you want to close your bank account registered with the Kotak Mahindra, these facilities won't bother you much. You only have to follow some steps.
Steps for Closing Kotak Mahindra Bank Savings/Current Account
There are always some reasons while closing a bank account we mentioned earlier. Though, one of the vital is you can not open a new account in the same bank with the same documents until you close the previous bank account.
Many people want to open a new account in the same bank because of some technical issues or transaction issues(that might not be possible to solve by the bank's staff). Sometimes the registered mobile number changing can be hectic, and people find new account opening is the easiest way. Therefore, here are the simple steps that will help you to close your Kotak Mahindra Bank saving, current, and investment account.
Step 1: Visit the Kotak Mahindra Bank account to ask for a bank account closer form. You can bring the form home to fill it up. Keep your essential documents like your Voter and Aadhar card with you. It will be in need. You can also download the Kotak bank account closure form online.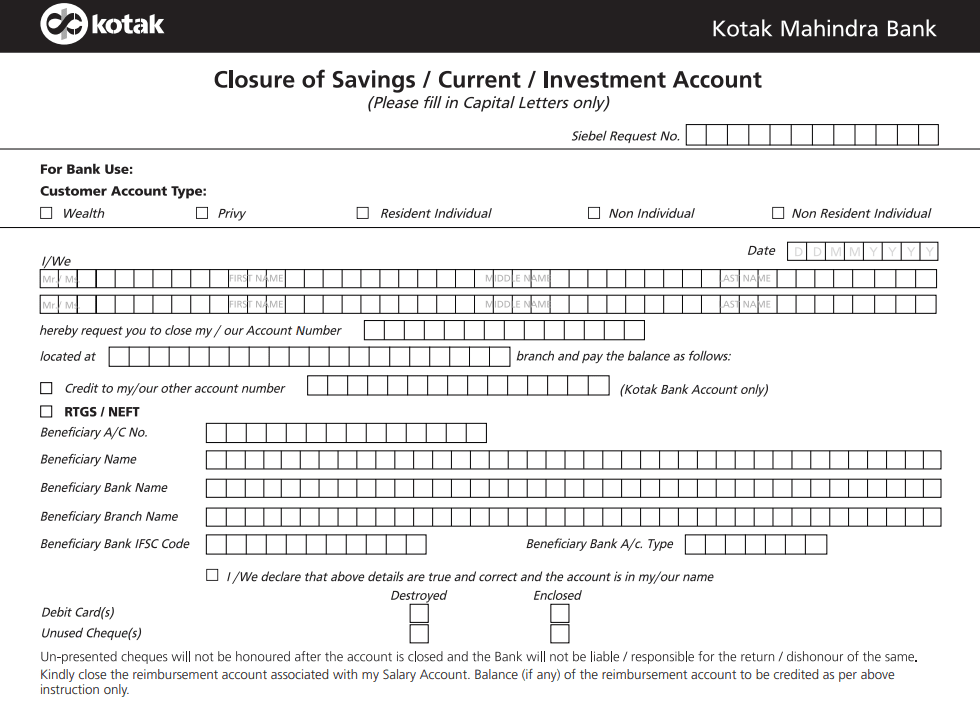 Step 2: Go throw the bank account closer form properly. Never overlook anything before filling it. Type the account holder's name in block letters, and if the bank account is joint, both the name will be in block letters.
Step 3: If you have any amount left in the account, either mention withdrawing or transfer to another account. Attach the KYC document with the main closure form.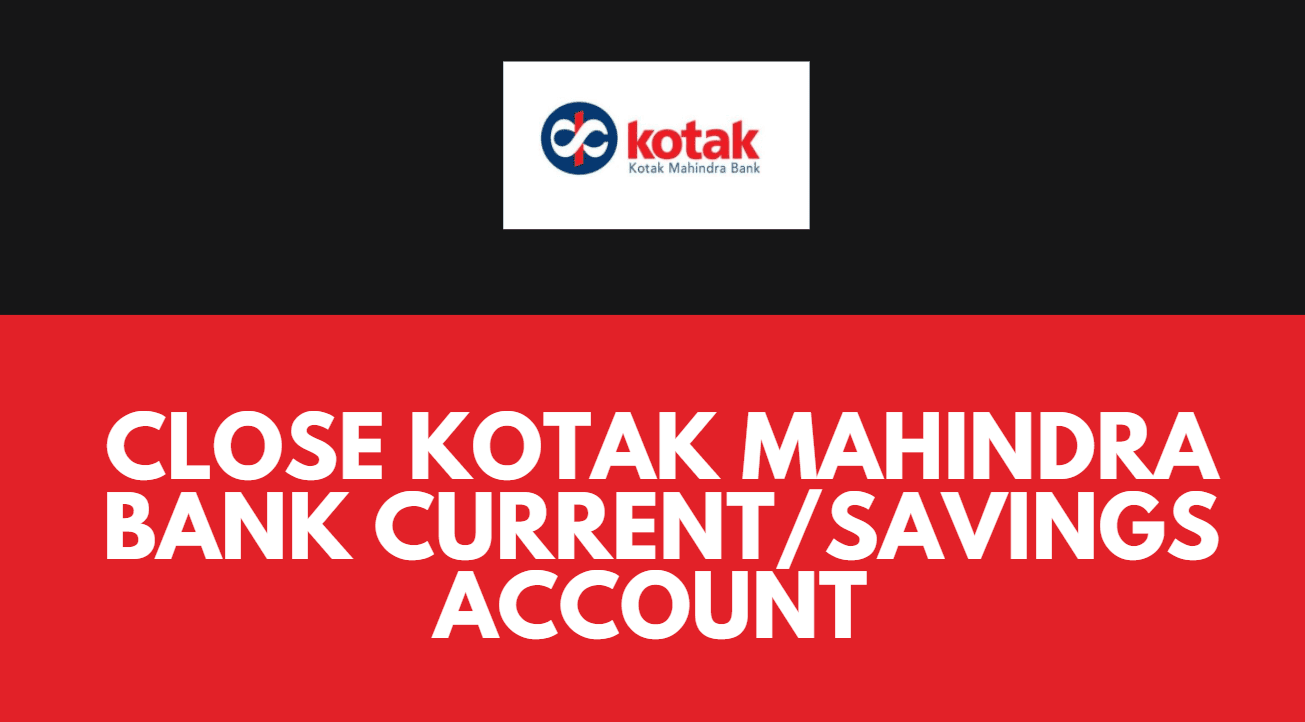 Step 4: Fill in the Kotak Mahindra branch name from where your account is. Mention the IFSC code and account number. Sign the form wherever it requires and make it as ditto as you have done earlier. Before submitting it, take a quick look.
Kotak Mahindra Bank account Closing Charges
Type of Account Charges
Closure Charges
Kotak Mahindra Bank Savings Account Closure Charges
1200 rs
Kotak Mahindra Bank Current Account Closure Charges
Within 30 Days and after 181 Days: Zero

31 Days to 181 Days: Rs. 600

Kotak 811 Account Closure Charges
Account Closed after 1 month & before 6 months of opening 1200 rs
Kotak Mahindra Bank NRE/NRO Account Closure Charges
500 rs
Conclusion
Bank may tell you to hold back for some time if there is any need to process the request. Do not overwrite or use a whitener. Make it easy to understand and mention the date of submitting. Here, the signature is crucial to make sure that no one else is requesting the same. This process will take some time to complete, and the Kotak Mahindra Bank will inform you to your registered mobile number about it.
It is rarely heard that people want to close the Kotak Mahindra Bank account or any other bank account in the first place. Without any prior reason, you can not close a bank account if the bank account is running. If you face any problem with the bank's work, they will try to fix it. So whenever you are going to close the bank account, make sure you have a valid reason to present.