Kotak Mahindra Bank is a well-known private sector bank in the country. Kotak Bank initiated its banking services in India earlier in the year 1965. The Reserve Bank of India in the year 2003 gave approval to the bank and approved a license to it for starting a banking business in India. The Kotak Mahindra Bank offers several services to all customers across India. It provides a wide range of financial services to people comprising personal loans, finance, life insurance, and many more.
The customers can register or change their mobile numbers from Kotak Mahindra Bank online as per the need. It's important to register mobile numbers (linking numbers to bank accounts) as it facilitates SMS alerts for transactions and helps in curbing forgery. Also, banks require online remittances to be verified with OTPs. For availing services like missed call banking and mobile banking, banks need customers to register their mobile numbers.
If you don't know about the process of changing your mobile number online, don't worry, we will help you with it. In this article, we have included a guide to register or change your mobile number via Kotak Mahindra Bank online or offline.
Here are 4 ways to change numbers in Kotak Mahindra Bank online. Check the step-to-step guide here!
Register or Change Mobile Number in Kotak Mahindra Bank Online
1. Change Mobile Number Online using Kotak Mobile banking
Kotak Mobile Banking application is available for both Android and iOS users. For updating the mobile number through Kotak Mobile banking follow the steps mentioned below-
Install the Kotak Mobile Banking application from the Play Store.  If you are an iOS user, install it from the iTunes app store.
After installing the application, register your new account.
Log in to the Mobile banking application and hit on Service Requests and select the Profile option.
On the profile option, click on the "Mobile Number update" option.
Now enter your new mobile number, re-enter and tap on the update.
Once you confirm your new number, tap on the "Confirm" button.
On the next screen, select the methods of your choice for the verification process.
The two options comprise Aadhaar OTP and OTP. Select the OTP option and enter the OTP sent to your old mobile number. Hit the Submit button.
On the next screen, you will see "Your Mobile Number has been successfully updated".
You will get a confirmation message on your registered new mobile number and your email ID.
You are all done!! Your mobile number has been successfully updated through your Kotak Mahindra mobile banking app.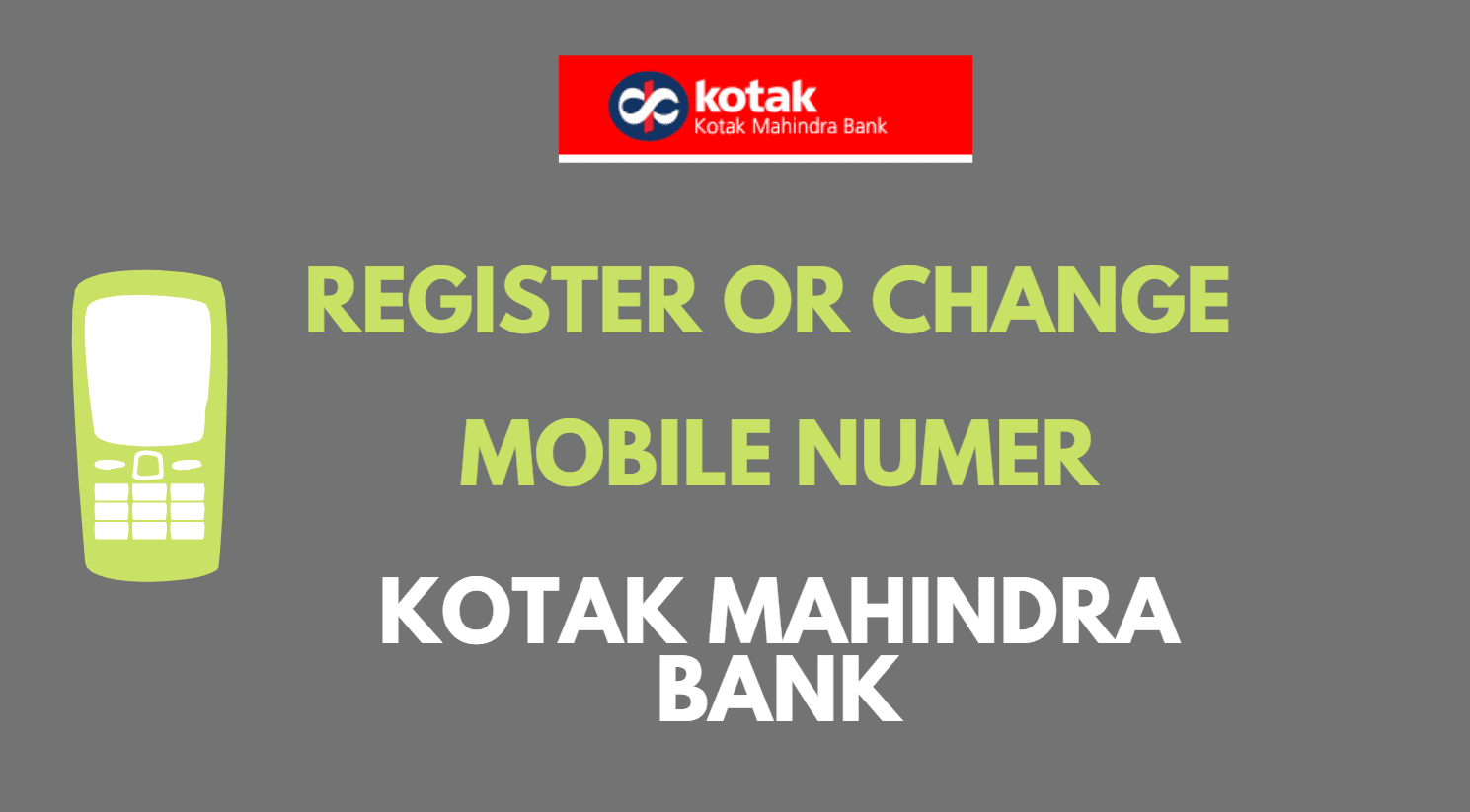 2. Update Mobile Number Online via Kotak Net Banking
You can also update your mobile number through Kotak Mahindra Net Banking anytime. Register for Kotak net banking online using your Debit card.
For changing your old number:
Visit Kotak Net Banking page: https://www.kotak.com and Enter CRN or your customer ID and click on Login.
Once you log in, click on "Profile/update contact Details".
On the next screen, the profile page will appear. Here you can see the current registered mobile number, click on Edit.
On the next page, enter your new mobile number and click on "submit".
Next screen, you have to select any of the methods to validate your request. Choose the Debit card and enter ATM PIN, expiry date and CVV for verification. You can also select other options like OTP and Aadhaar Number.
Finally, Click on the submit button. Your mobile number is successfully updated.
3. Register/Change Mobile Number via ATM
You can update your number by visiting the nearest Kotak ATM. To update the number through ATM, you need to follow the below steps-
For updating your number through the ATM, you need to first track your nearby Kotak ATM. To locate nearest ATM, visit-
https://www.kotak.com/en/reach-us.html
There you will get the dropdown arrow to select the option including ATM & Branch, Branch, ATM, and Smart Banking 24×7. Select the 'ATM' option.
Enter location or pin code
Click on the Filter.
You will get the list of your nearby Kotak ATM branch.
Internet your ATM and search for the mobile number update option.
Enter and re-enter the new mobile number and confirm. Your new mobile number will be updated.
4. Register/Change Mobile Number Bank visiting Kotak Mahindra Bank Branch
If you are not confident enough about changing the mobile number online, do it by visiting the nearby Kotak Mahindra Bank branch in your location. For updating your number, visit the nearest branch along with a valid original passport size photo and any of these identity proofs like an Aadhaar Card, Voter's ID Driving License, Passport, etc. You don't need to visit the home branch to update your number.
All you need to do is ask the bank branch executive for a customer request form. Fill up the form with credentials. Make sure you fill in the new mobile number in the form and submit it to the respective executive. After your mobile number is updated with your bank account, you will get an SMS to your phone. Through the manual procedure, the mobile number will be updated within 24 hours.
Remember, security services like one-time fund transfer, online Net Banking password generation, will not be accessible for 7 days after updating your Mobile Number.
| Services | Contact |
| --- | --- |
| Kotak Toll-free number | 18602662666 |
| Kotak 811 Toll-free number | 18602660811 |
| Email ID | [email protected] |
Bottom Line
Hopefully, this guide has helped you to change your Kotak Mahindra Bank account registered mobile number. For more updates on banking and financial services, stay tuned to this website!