Can you think of a financial instrument that works beyond convenience? It is a credit card. You can use a credit card to make daily purchases, or you can sponsor your materialistic dreams using one. In a way, it is a ticket to financial freedom.
It makes you financially sane with the responsibility to pay the bills in a timely manner. Along with the multifaceted benefits that come along with the credit card, there are mile points that provide huge discounts on big purchases.
So, if you are looking at buying one for yourself, there are numerous banks that offer credit cards. In this blog, we will talk specifically about Kotak Mahindra bank.
Kotak Mahindra Bank is a relatively young bank founded in 2003. It is headquartered in Mumbai. Kotak Mahindra Bank was established by the founder, Uday Kotak. With time, it has broadened its catalogue of services with the subsidiaries such as Kotak Securities, Kotak Life Insurance, Kotak Mahindra Capital Company, Kotak Mahindra General Insurance Company Ltd., and more.
The bank even has overseas subsidiaries at international locations such as New York, San Francisco, Singapore, Dubai, London, and Mauritius. It is one of the trustworthy banks to receive a credit card from.
If you have applied for a credit card from Kotak Mahindra bank and are perplexed about your application status, let's get you started.
Steps to Check the Kotak Mahindra Bank Credit Card Status
Follow the below-mentioned steps for checking the application status of Kotak Mahindra Bank Credit card:
When you send an application for availing of a credit card from Kotak Mahindra bank, you will receive a text message on your registered mobile number. The text message acknowledges a credit card application and provides you with an application form number as well as a reference number.
Step 1: You can visit the official Kotak Mahindra bank website https://www.kotak.com/en/transaction-services/track-application.html.
Step 2: Here, you will find the page saying, "Check your application status". Scroll down the options from the "Select a product". Look for Credit Card and hit Submit option.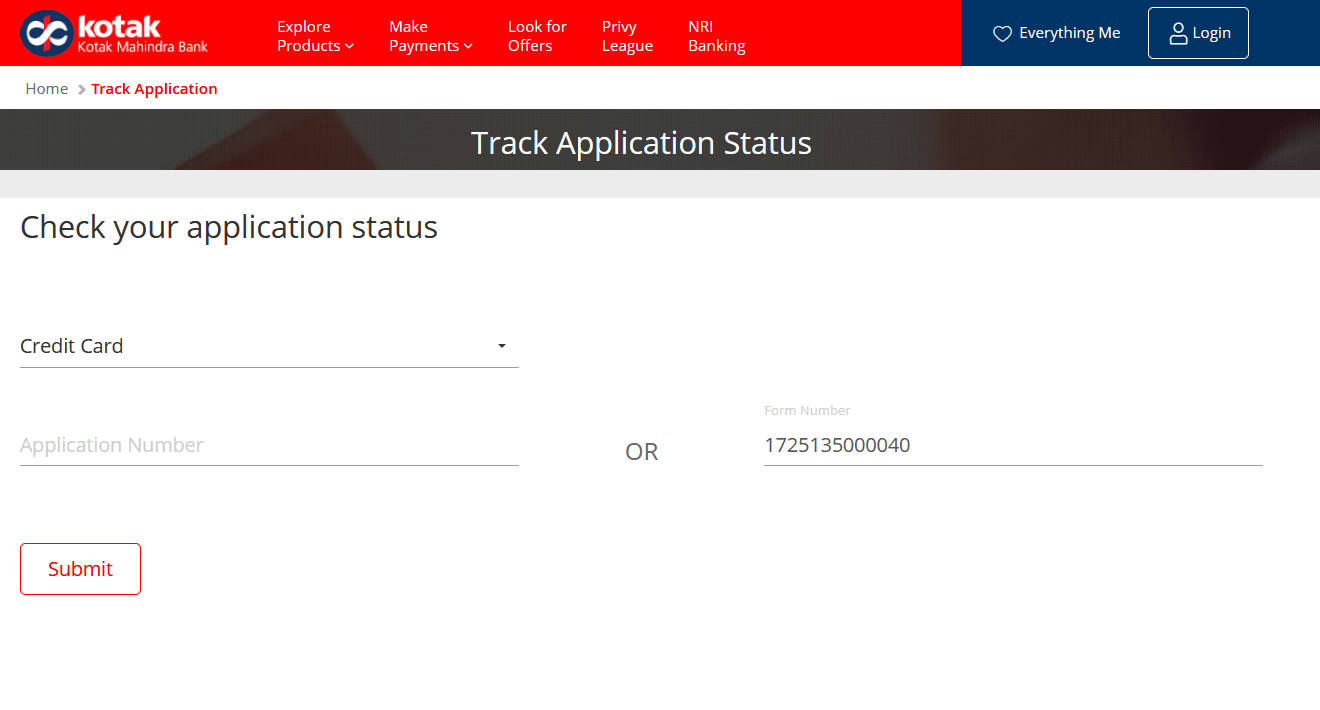 Step 3: Once you select the Credit Card from the scroll menu, two more options will get activated, asking you for the Application Number or Form Number. Enter any one detail and click the submit button.
Upon filling in the required details, you will see one of the following Status:
In Progress
Approved
Dispatched
On Hold
Declined
No Records Found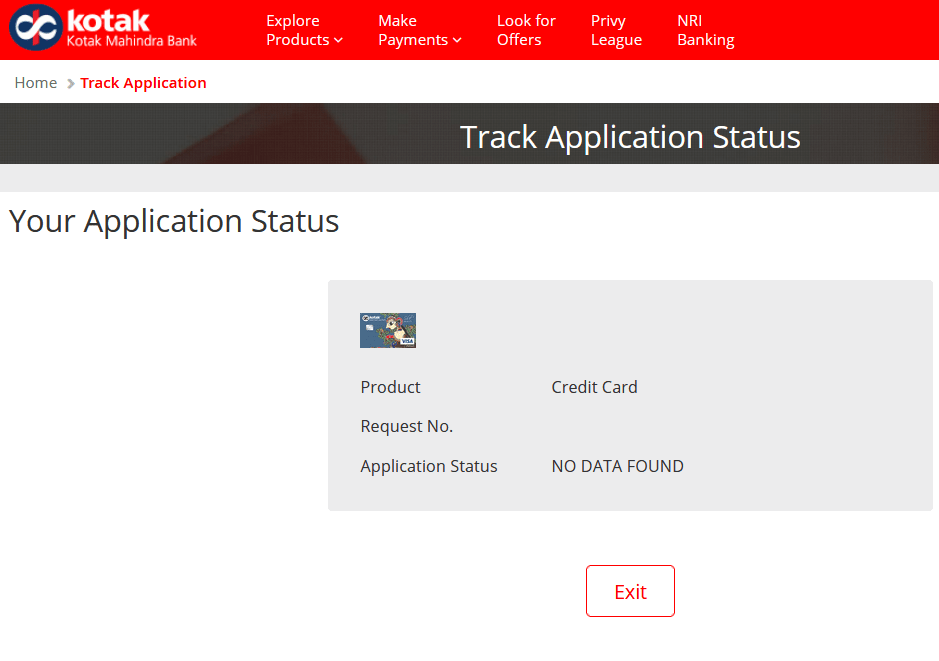 What is the True Interpretation of your Credit Card Application Status?
Sometimes credit card applications suffer from discrepancies. Hence, not all credit card application processes are smooth. So, in some cases, you will have to contact the bank executives.
Let's learn about the true interpretation of your Kotak Mahindra Bank credit card application status:
| Status | Interpretation |
| --- | --- |
| In Progress | If you see this status for your credit card application, it means that your credit card is under processing. The bank executives are verifying the details of your application. |
| Approved | When all the verification processes are done, and there are no discrepancies, you will see that the credit card status will be changed to approved. This means that you will shortly receive your credit card. |
| Dispatched | Upon receiving the approved status, the next step is to dispatch your credit card. The dispatch status implies that you will be delivered your Kotak Mahindra Bank Credit card at the registered address provided by you. |
| On Hold | Failure to send all the required documents or missing information may lead to this status. The bank executives will call you or contact you in some way to get more information about the same. |
| Declined | When you are not eligible for the credit card or have a poor credit score, you will receive a declined status. You can follow-up with the bank and apply for a credit card again after 3-6 months. |
| No Records Found | If you find this status, you can contact the bank and provide them with the application form number or reference number. |
Track Kotak Mahindra Bank Credit Card Using your Date of Birth
One of the best and easiest ways to track the status of your Kotak Mahindra Bank credit card application is through your date of birth. For this, you will be required to use the Kotak Mahindra Bank mobile application.
Go to the App Store or Play Store to download the Kotak Mahindra Bank. After you undergo the verification of the account number and mobile number, you can go to the "Track Credit Card Status" option. Add your date of birth, and you will be able to view the status of the Kotak Mahindra Bank credit card application.
| Services | Contact |
| --- | --- |
| Toll-free number | 18602662666 |
| 811 Toll-free number | 18602660811 |
| Email ID | [email protected] |
Important note: it will take 21 working days for processing your application from the date of receipt of documents. For a new credit card application, you will receive the card within 15 working days after the application approval. Dial toll-free number 18602662666 or 1860-266-0811 if you are an 811 customer for any type of credit card query.