In recent times, there has been a high demand for Yes Bank Credit Cards, given the attractive deals, discounts, cashback, and rewards offered on myriads of merchandise. In addition, the credit limit is flexible, thereby making it convenient for users to opt for Yes Bank Credit Card.
If you too wish to avail of multiple benefits that come packed in the Yes Bank Credit Card, you can quickly apply for the same online or offline. If you have already applied for one and are confused about the Application status, fret not, for we have got you covered.
Steps to Track the Yes Bank Credit Card Application Status Online
Before getting into the process, let's stay away from being a victim of online fraud activity by only using a private Internet network and a trustworthy device. Once you are sure about the privacy of your browsing, process with the following steps:
Step 1: Look for the Yes Bank website in your search engine. Alternatively, you can visit directly here https://www.yesbank.in/credit-card-application-status. Upon clicking, you will find the different options to fill.
Step 2: In the given column, add your registered mobile number similar to the example given below.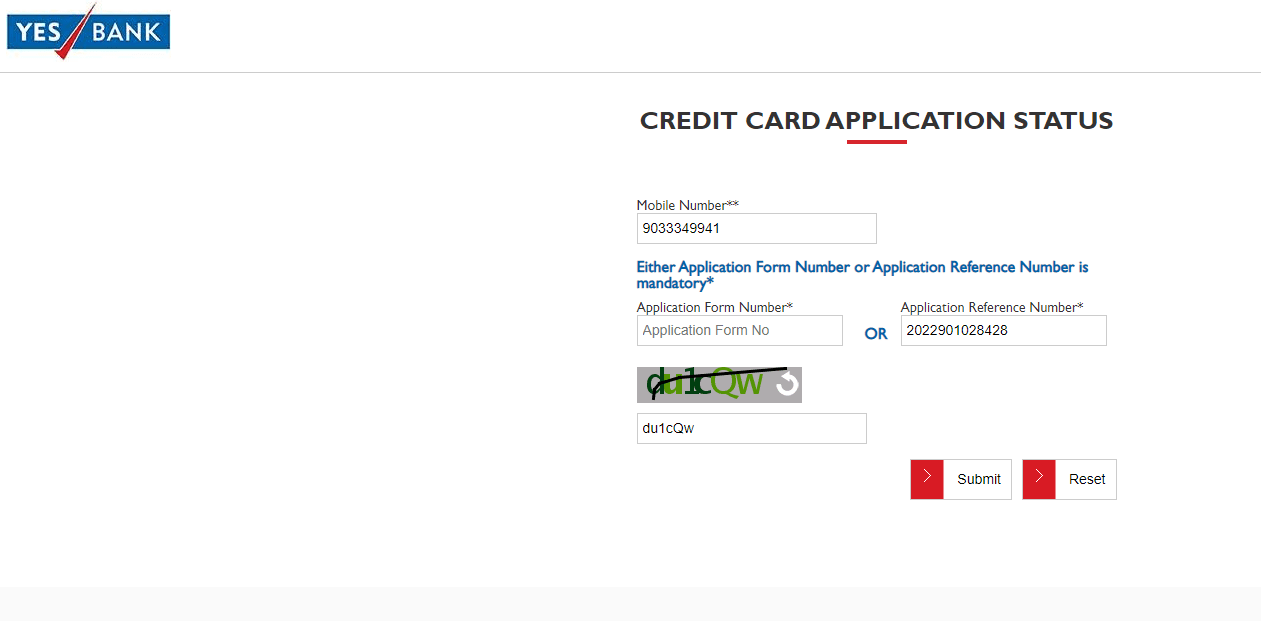 Step 3: In the next step, you have the option to add whatever is available–Application Form Number or Application Reference Number.
Step 4: In the next step, you will be shown a captcha code. Enter the exact code and click on Submit.
Step 5: You will be redirected to the page with your Yes Bank Credit Card Status.
Decoding the Credit Card Application Status
When you submit your details, you will be receiving one of the following system-generated messages on your application status. Let's interpret each of these messages for you to get better clarity.
In-process/In progress: The system-generated message implies that the application for Yes Bank Credit Card is still under scrutiny. In such a case, you should give it a couple of days before viewing your application status again.
Approved: When you see that the status of your Yes Bank credit card has been approved, it means that the card has gone for printing and will be delivered to you soon.
Rejected: If you see that the status of your application is rejected, you can talk to customer care and ask them for the eligibility criteria that you failed to meet. After 3-6 months, you can again send in your application.
On-hold: The on-hold status implies that there are some additional documents and details required from your end. In such a case, you can call the bank and find out the details.
Dispatched: Dispatched status means that your Yes Bank Credit card has been approved and sent to your registered address.
Important Note: It is advisable to keep your application form number or application reference number handy at all times during the processing of your application.
How to Track the Status of Yes Bank Credit Card Offline?
Alternatively, you can also track the status of Yes Bank Credit card offline by contacting the customer care Centre.
For people residing in India, you can contact 1800 103 1212.
For people residing outside of India, you can contact +91 22 4935 0000.
Other than this, you can also send an email to [email protected] or [email protected] along with your application form number or reference number, date of birth, and mobile number.
| Credit card Services | Contact |
| --- | --- |
| Toll-free Number | 1800 103 1212 |
| Calling from Outside India | +91 22 4935 0000 |
| Email | [email protected] |
If you have a Yes bank nearby to your place, you can simply walk in and request your Credit card application status.