In banks, registering phone numbers has become very crucial. It has helped to reduce many crimes related to your bank account. If anyone tries to withdraw money from your bank without your knowledge using your card, the bank will immediately send you a message.
Thus providing mobile phones to the bank where you have an account will secure your hard-earned money from frauds. Registering your mobile number with the bank will also keep you updated about your accounts, withdrawals, and deposits.
Various Ways to Register/Change mobile number in Federal Bank
In case you need to change your mobile number in the Federal Bank, there are three simple ways to do that-
Net Banking
You can change, through Federal Bank ATM
Writing a letter, the offline method.
By Calling Customer Care
1. Through Net Banking
If you choose to change your mobile number through net banking, then-
Go to the Federal Bank net banking page and log in.
Select the option Customer Service and then New Service Request. Then click on the 'Change mobile number/ Email ID option'.
Write your mobile number and email ID. Then click on Continue.
Then confirm your request and enter the transaction password and proceed.
In two to three days, you will get a call from the bank. They will verify the details you have provided, and within 24-hours, your mobile number will be changed or updated.
2. Visit The Nearest Federal Bank ATM
Apart from this process, if you choose to change your mobile number through the Federal Bank ATM, all you need to do is go to a Federal Bank ATM.
Insert the ATM Card.
Then enter the PIN.
Go to the More Services option and select Update Mobile Number.
Put the correct mobile number that you want to change.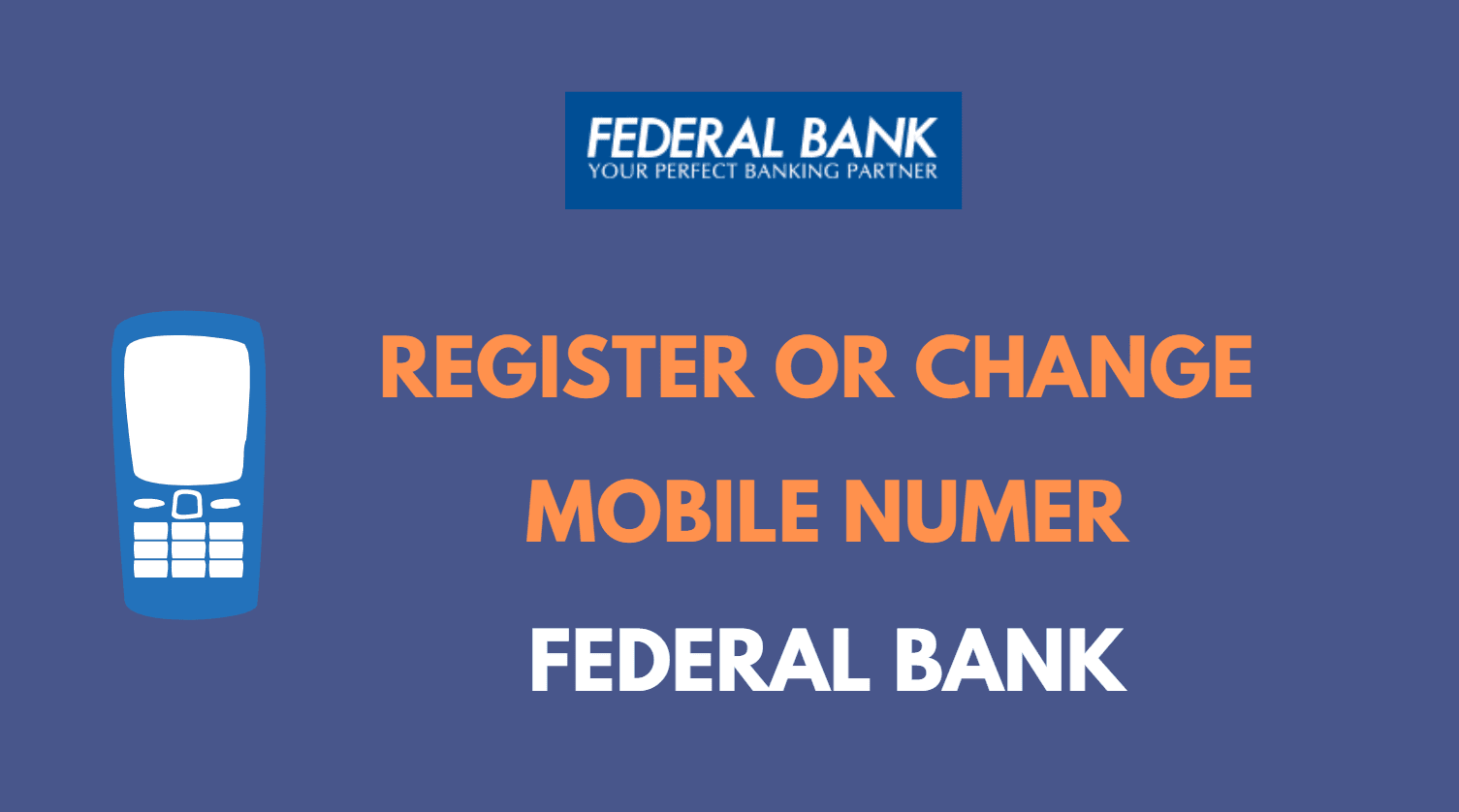 3. The Offline Mode To Change The Mobile Number
There is another way of changing the mobile number, and it is the offline mode. You have to apply to the Branch Manager.
To register or change the mobile number, write a letter to your Branch Manager. You should give a letter to the home branch. You will need to write your account number and your request to register your number in the letter.
You will also need your Aadhar Card xerox. It should be self-attested. At the home branch, submit your letter with the self-attested Aadhar Card. In such a simple way, you can register your mobile number in Federal Bank.
1. You can also download a contact details alteration form from Federal Bank. Fill it up with your details and also carry ID proofs with xerox.
2. At the bank, ask for the KYC update form and fill it correctly, write your new mobile number and sign the form.
3. With the form, attach your application and the xerox of the document. Your mobile number will be changed, and once it is done, you will get an SMS from the bank.
4. By Calling Customer Care Center
To register your mobile number with the bank, you can contact Dial at the toll-free number 1800 – 425 – 1199 Or 1800 – 420 – 1199 and submit a request. Customers from abroad can dial 080-61991199.
| Services | Contact |
| --- | --- |
| Toll-Free number | 18004251199 Or 18004201199 |
| NRI Customer Care number | 08061991199 |
| Email | [email protected] |
5. Register Mobile Number For Missed Call Balance Enquiry
To register a Mobile number for missed call based balance enquiry, you have to send an SMS in the following format to the number 9895088888
ACTBAL 14 digit account number
Using the above methods, you can easily register or update your mobile number in the Federal bank easily. I hope, you liked the information provided in this article.