Digitalization has helped us in many ways, and the best one is roaming cashless around the city and paying through mobile. But to have freedom like that one should own a bank account, that will make all transactions happen correctly.
There are a total of 34 banks in India functioning at present. Out of 34, 12 are run by the public sector and 22 are run by the private sector. Out of 34, we have one Federal Bank that comes under the private sector bank.
Many users of Federal banks are quite happy and satisfied with their good services. However, on the other hand, many users don't seem to be pleased as the Federal bank does not provide many offers to use its card.
People have their reasons for leaving a bank service, and if you are one of those willing to close their federal bank account then this article will help you get through it.
How To Close Federal Bank Account Step By Step
First of all, let's clear all matters regarding closing your federal bank account Or any other bank account online. You cannot close your bank account online, there is no such procedure to close an account. You must visit your bank branch once to close your account.
So let's proceed ahead on how you can close your federal bank account.
Step 1: The first step in closing your federal bank account is to get a closure form. Now there are two options to do that, either you download the closure form online or you get one from your bank branch.
Step 2: In the bank closure form you will have to fill in all the necessary information regarding your bank account, your ID proof, basically all the mentioned details need to be filled in.
Step 3: Once you are done filling the closure form, submit the form to your federal bank branch manager.
Important Note: Not only will you submit the closure form but along with that, you are required to submit your passbook, debit/credit card, Chequebook, etc.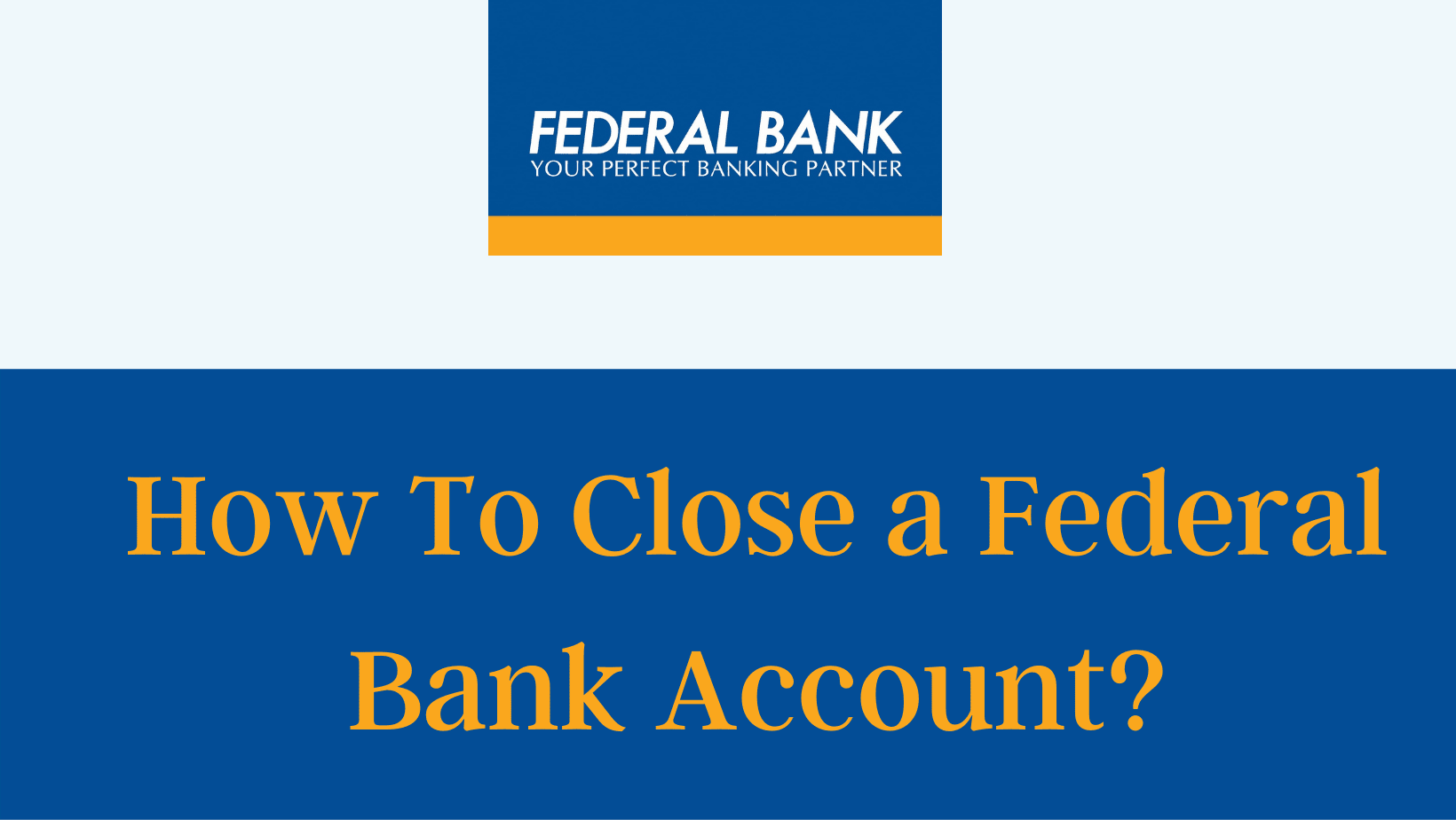 Step 4: After that, the bank will verify your closure form and documents submitted along with it.
Step 5: This process will take a minimum of 7 working days to a maximum of 10 working days. After which you will get a confirmation of closing your bank account permanently.
| Services | Contact |
| --- | --- |
| Toll-Free Customer number | 18004251199 Or 18004201199 |
| NRI Customer Care number | 08061991199 |
| Email ID | [email protected] |
Federal Bank Account Closing Charges On A Savings Account
There are different closing charges the bank puts on upon closing a savings account that varies from the time of opening and closing the account.
Closing account within 14 days: There are absolutely no charges applied if you close your account within 14 days of opening it.
Closing account within 6 months: Rs. 100 for saving and rs. 200 for the current account is charged if you close your Federal bank account within 6 months of opening it.
The closing account between 6 months to 1 year: Federal banks have different charges if you close your bank account between 6 months to 1 year. For rural areas the closing charges are Rs. 100, for urban, semi-urban, metro areas the charges are Rs. 300, and for senior citizens the charges are Rs. 100.
Closing account after 1 year: After one year of opening an account if you wish to close your Federal bank account, there are no closure charges applied to the process.
| Duration | Saving account Closure Charges | Current account Closure Charges |
| --- | --- | --- |
| Within 6 months | Rs. 100 | Rs. 200 |
| 6 months to 12 months | Rs. 300 | Rs. 300 |
| For Saving account ( Rural) | Rs. 100 | Rs. 300 |
| For Saving account (Senior Citizens) | Rs. 100 | Rs. 300 |
Conclusion
This is how you close your federal bank account as well as an account from another bank. The procedure is the same in all banks, you need to download or get the closure form, fill it, submit it and you are done closing your account.
Closing a bank account is an easier process than opening one. Don't you think so? Use these easy steps to get rid of the bank account you aren't using anymore.