A bank is a sector that works as a lender and gives prior security to our money. It works both under private and government companies. A bank is always taking care of your transactions, money protection payments, future money growth, everything. Almost 34 banks are in India, and Dhanlaxmi Bank is one of them.
Dhanlaxmi Bank was incorporated in 1927, and its headquarter is in Trissur, Kerala, India. Apart from that, the bank has branches over 245 in Karnataka, Tamil Nadu, Andhra Pradesh, Rajasthan, Haryana, and many other states in India. It is considered the oldest bank in India.
Dhanlaxmi bank is always concerned about its customer coming back for its amazing services. It has digital service platforms for its customer to handle their bank account from their comfort zone. Usually, people want to close their bank account for numerous reasons like city or job change, dormant bank account, exessive fees for annual SMS or atm charges, so many accounts that make it hectic maintain a minimum balance.
Hence, to avoid the circumstances closing the bank account is the best option. Every bank account needs to have a KYC with it to diminish money laundering, risk of identity theft, fraud financing, etc. At the time of bank account closing, you need to have KYC with your bank account.
Procedure to Close Dhanlaxmi Bank Account
Dhanlaxmi Bank account closing steps are not that hard to follow. In order to close the Dhanlaxmi Bank account, you need to follow some simple steps. According to banking rules, you can't find anything online to close your Dhanlaxmi Bank account. Only the way is to go to the bank. In this article, we make it clear with the steps below,
Step 1: Visit the home branch of Dhanlaxmi Bank and ask for an account closure form. Give a proper explanation while choosing to close your Dhanlaxmi Bank account. Dhanlaxmi Bank account closure form also can be downloaded from the official website.
Step 2: Bring your official bank documents like passbook, checkbook, ATM. Always keep address proof like Adhaar Card with you. You will need the KYC documents to attach with the closure form. So keep it with you while visiting the bank.
Step 3: Go through the closure form carefully before filling it. Keep block letters as required, and make sure no mistakes are there.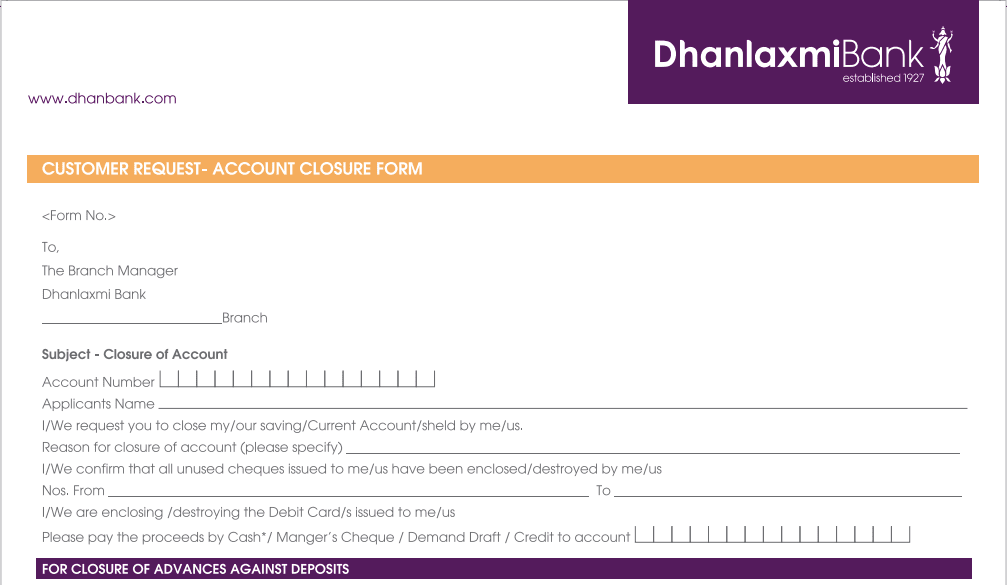 Note: Every single detail should be proper, like bank account number, IFSC code, branch name, date of application, etc.
Step 4: Make sure you do the accurate signature you did at the time of opening the Dhanlaxmi Bank account. It should match with the data the bank has of your account.
Step 5: Check your bank closure form before submitting it to the staff.
Conclusion
Now only you can open a new bank account with the same bank if you close the previous bank account. If you have a dormant account with Dhanlaxmi Bank, you have to re-open it to close it permanently. Therefore, you have to give an application to the bank staff to re-open your dormant account.
Other than that, if you are moving to a new city or changing your job, there is no need to keep a bank account that will be unuse. Usually, an unused salary account converts into a general savings account after a few months. And an unused savings account might create unnecessary circumstances.
These steps will help you to complete your Dhanlaxmi Bank account closing purpose. For more information regarding Dhanlaxmi Bank, call their customer care number.