HDFC Bank is the largest private sector bank mostly known for its best services and customer care. HDFC offers its customer the best deals and privileges in the savings account. However, according to the Indian Government, you need to have at least a minimum balance to maintain the bank account.
It totally depends on you how you want to keep your bank account. Mostly, people close their bank accounts for this reason only. Because there are students and unemployed people for whom it is impossible to keep balance in the bank account. As HDFC bank is a private organization, the minimum balance amount is required to avoid penalty charges.
If you have multiple bank accounts and have to continue all those with a minimum bank balance, we can understand it is very hectic. Thus, it is the best idea to close any unused bank account. Though, there are so many other reasons as well for closing the bank account. Like, lower rate of interest, high transaction costs, poor online services, unhealthy relationships with branch staff, etc. Now, if you want to know how you can close your HDFC Bank account and download the online HDFC bank closure form, we have got you. The steps have written below.
Steps to Close HDFC Bank Account
As a customer, you can close your bank account anytime you want. But there is no other way to terminate your HDFC Bank account apart from visiting the bank. The following steps are for closing a bank account.
Step 1: Go to your nearest HDFC Bank branch. You only can close your account by visiting the home branch where you opened your bank account.
Step 2: After that, you have to ask for an account closure form from the bank executive. On the other hand, you can download an account closure form from the HDFC official website.
Step 3: You may continue with fill-up the form on the internet and then download it, or you may download it at first and then fill it up.
Step 4: Fill the form with your correct documents like account number, name of the account holder/holders.
Step 5: If you have any remaining amount left in your account, fill the amount in the required place and put down the new account number where you want to move the amount. Or else you can ask for the withdrawal of the money.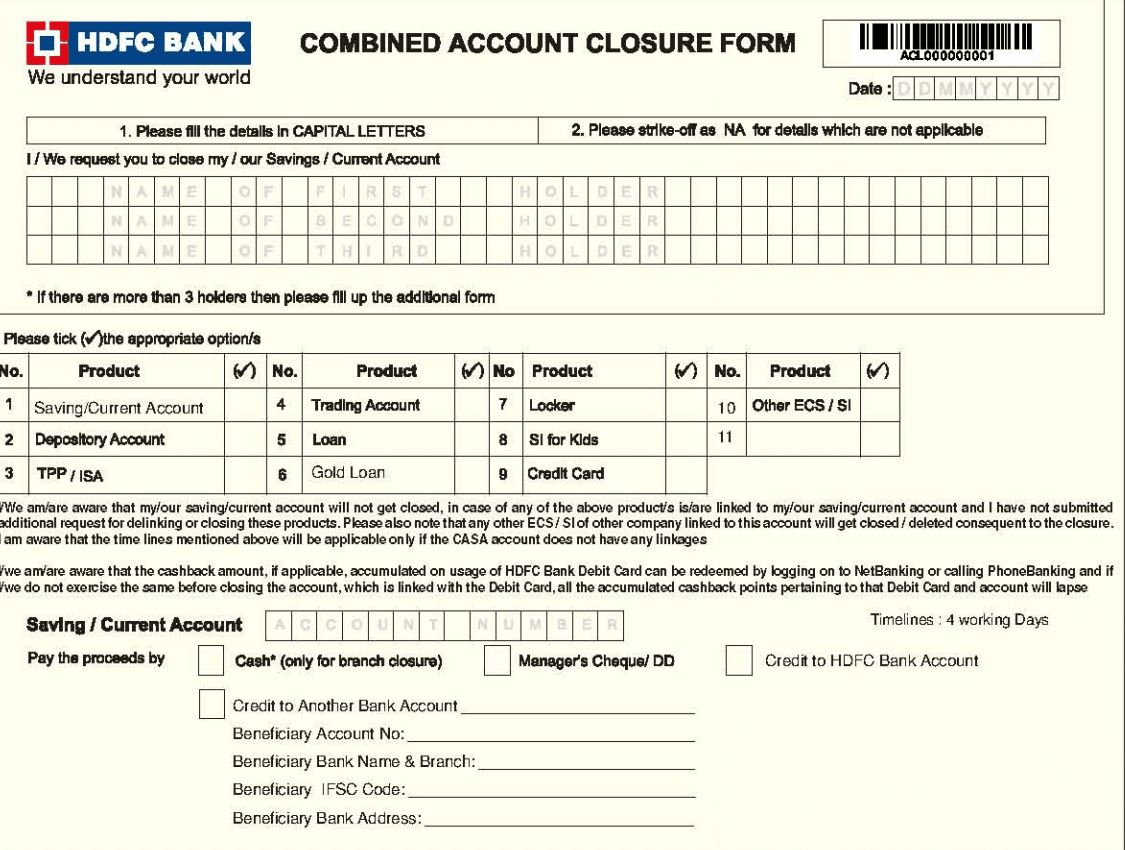 Step 6: Carry the essential documents in case the branch executive wants to see them for verification.
Step 7: Hand over the debit card, passbook, and checkbook to the bank executive accordingly. You have to attach the KYC form assuredly with the closure form.
Step 8: Before submitting the form, don't forget to sign it where required. Keep this in mind if the account is the joint holder, then the closure form should have two signs.
Conclusion
HDFC Bank has a charge for closing the bank account. The bank executive will ask for the closing amount to pay before processing the activity. You only have to credit the amount in your account so that bank can deduct that amount from there. Need not to say you have to put your current mobile number in the form. So the bank can easily avail through it and let you know if any problem will arise.
Keep a photocopy of your last and first checkbook page and the passbook front page. Last but not least, after closing the account, the bank executive will give you an acknowledgment form. You must keep a soft copy of it.
Usually, HDFC Bank takes only 7 days to close an account, but in exceptional cases, it will take 2 to 3 weeks as well. Here we conveyed all the information you need for your HDFC Bank account termination. If you need any further assistance regarding the HDFC Bank account, we are here to help you. Contact us for more.