If digitalization never happened we could have barely survived the pandemic and its different phases. During the pandemic, digitalization became the need of the hour as it was much faster, no contact, and faster than cash payments where you have to find change and of course a safe way of transaction.
But before you start your journey with digitalization and cashless transactions you need to have a bank account that will be linked to your money transfer mobile app. There are multiple banks in India offering different schemes, interest rates and offers to their customers. A customer is free to choose whatever bank he would like to continue.
Many customers stay at one place even after getting offers better than the bank they have an account with. And many like to explore the offers and tend to shift to another bank due to various reasons. In this article, I will tell you the process of closing your Kotak 811 account by visiting the branch.
Steps To Close Kotak 811 Account
Closing a bank account is not a big deal, it is the same as opening one where you have to go through some verification process. The verification process is done by the bank to make sure it is the account holder closing the bank account and he is a citizen of the country. Below are the steps that one needs to follow to close his bank account. Remember that the closing a bank account procedure takes place offline only.
1. Visit The Branch
First of all visit your nearest Kotak Mahindra Bank branch. There you have to start with your Bank closing procedure.
2. Get The Bank Account Closure Form
To close your Bank account you have to get a Bank account closure form that you will get from the Bank. Fill your Bank closure forms with all the required details like your name, account number, reason, etc. You can either get the form from the branch or directly download the Bank account closure form from the official website of Kotak Mahindra Bank.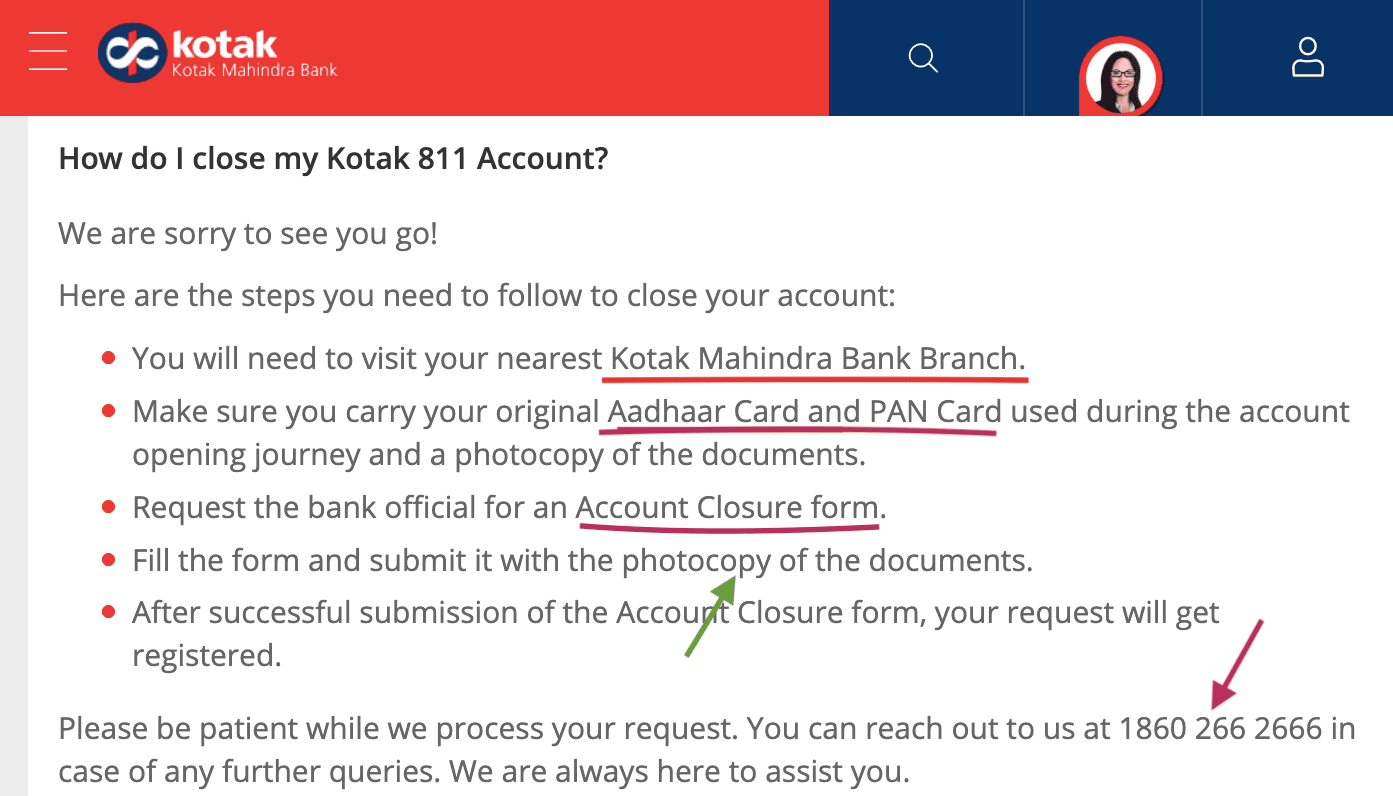 3. Submit The Bank Account Closure Form
Submit the filled Bank account closure form to the manager with an application stating your reason why you want to close the account.
4. Attach Aadhaar Card and PAN Card
Not only will you have to submit the Bank account closure form to close your Bank but you also have to attach a photocopy of your Aadhaar Card and PAN Card which is proof of your identity. You can also submit any one document from the following voter's identity card, Aadhaar card, driving license, passport, etc.
5. Surrender Your Kotak Bank Passbook, ATM Card, Cheque Book
It is most important to submit your Bank account passbook, Cheque book, ATM card, etc that has been issued to you while opening the account. It is a legal procedure that needs to be fulfilled. Until you submit all the items the procedure will not proceed ahead.
Important Note: Once your Kotak 811 account is closed you won't be able to do transactions of the remaining balance under any conditions. So make sure you withdraw all amounts even before starting the closing formalities.
Kotak 811 Closing Charges
| Period | Account Closure Charges |
| --- | --- |
| if closed after 1 month & before 6 months of A/C opening | 1200 Rs |
| Toll-Free Number | 18602662666 |
Difference Between Kotak 811 Account And Regular Account
One of the major differences between a Kotak 811 account and a regular account is that you don't have to maintain a minimum balance with Kotak 811.
The Kotak 811 account offers you to open the account at zero balance with 3.5% interest per annum. However, with a regular Kotak account, there is a minimum balance that you have to maintain monthly.
You have a digital debit card that you can carry in your Kotak Mahindra Bank app. So now you are no longer afraid to lose or forget to keep your debit card with you.
Conclusion
Here you go with the easy steps of closing your Kotak 811 account. Now that you know what and how to close your Bank account, make sure you start with the procedure quickly. But don't forget to withdraw the remaining balance, keep your Bank account passbook, ATM card, Chequebook to yourself.
So that when the authorities ask you to surrender your Bank account-related items you have them with you. This will help you to speed up your Kotak 811 bank account closing procedure.