Bank of India is one of the oldest, largest, and most reputed banks in India. Bank of India has almost 5000 branches across India with high-quality facilities and modern technologies provided to its customers. Likewise, other felicitated banks, Bank of India also, has mobile banking, digital payment method, advancements of loans, quick money transaction, and inquiry over phone facilities to give. A person mostly closes his/her bank account for unable to maintain minimum bank balance as a required or unused bank account.
A bank account can be unutilized for several reasons, and one of them is a salary account that is not any more salary credited for changing the location or company. Automatically, as per the bank's norms, the unused salary account can be converted into a savings account with a minimum balance required.
Almost every private sector bank has its rule to maintain a minimum balance in the bank account like 2.5 thousand or 3 thousand. Below this amount, a certain amount will be charged against the account holder. If you have 4 to 5 bank account like this, we know it's hard to maintain as keeping this range of amount in every bank account is impossible. At such moments, this is the best idea to shut down the bank account that will never be in use.
Before close the bank account, if you already have a different bank account with the same company or another, transfer all your left bank amount except the closure charge from the old bank account to the new one. Clear all the pending payments you have left and disconnect all the links you have with the old bank account. Prepare all data you have for the previous bank account to gather in one place to find it easy to access.
Bank of India Bank account Closure Steps
Though Bank of India has the best service for its customers in India and all the facilities one bank should give if you still want to close your bank account, follow the steps below. At first, let me tell you that there is no other way to close your account apart from visiting the home branch personally.
Step 1: The first thing you have to do is visit your nearest home branch of the Bank of India. Ask for an account closure form from the bank staff.
Step 2: Fill the form with all the details that are used to open a bank account and carefully put them with no mistakes in the correct space of the form. It is mandatory to fill in some essential documents like the name of the account holder, the bank account number, registered mobile phone number, etc.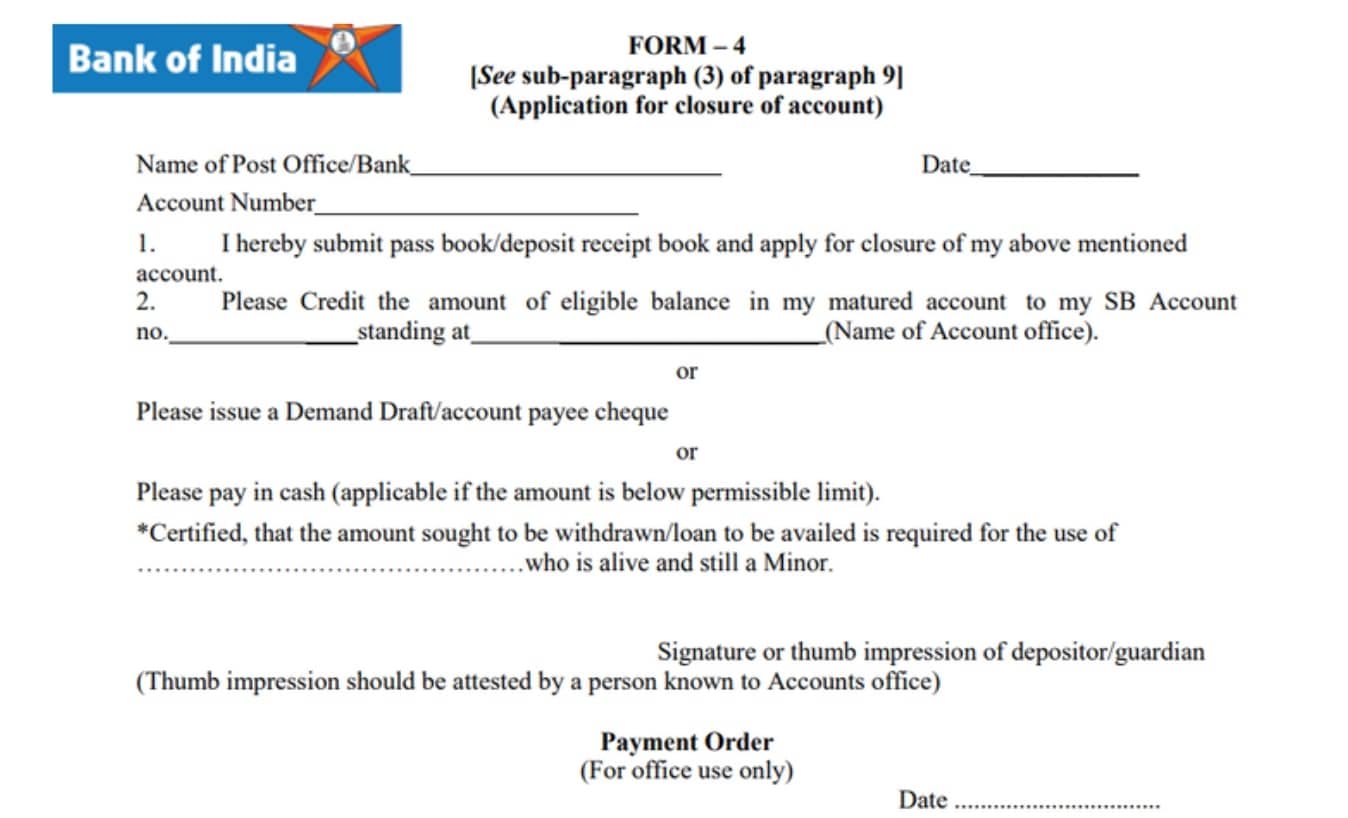 Step 5: Write down the reason behind the account closing as the form asks. It will help the bank to process your requirement quickly. Select and mark the method the way you are willing to transfer your left amount to your new account.
Some more information like Aadhar card number with details, pan card number, etc needs to fill in the form.
Important Note: The bank will ask for photocopies of your documents. Carry them with you while visiting the bank and attach them with the closure form you have filled.
Step 6: Carefully sign the form at the end. Don't change the pattern of your signature anyway. It can bring problems while submitting. The signature needs to match with the one you have with your bank account data.
| Services | Contact |
| --- | --- |
| Toll-free Number | 1800 220 229 or 1800 103 1906 |
| Email | [email protected] |
Conclusion
In the end, you need to give a valid reason to the bank to close your account. You can not ask to close your bank account suddenly. Though an account with Bank of India closing is not at all required for its customer, as Bank of India tries to serve its customer in the best way possible.
Nevertheless, you have decided to close it permanently for any reason simply, follow the step we covered above. We hope all the information that you need to close your Bank of India account is here in this article. If you need any further assistance, you can contact us.