Digitalization is the foremost power in internet generation today. The power of work steadily and smartly. This digital medium converted the work process smarter in so many sectors in terms of unfurling the knowledge and usage of the internet world to people. Online banking is one of the parts that serve us digitally to be intellectual and sharp-witted. Nowadays, no other banks are there that don't have their own website.
It's a beginning of an era of banking smarter and faster way. Central Bank of India built its website with proper technology that's easy to access, gathers more information, solves banking problems, and answers every query. This website will resolve your issues with the struggle of your bank account statement and help to recover them.
Steps to Download CBI Bank Account Statement
The bank statement is valuable for tracking down your monthly, daily, and yearly transactions. Bank provides their customers with a few documents related to their bank accounts, such as a passbook and checkbook. The passbook contains the bank statement that needs to be updated time-to-time. Alternatively, you can download the account statement from the Central Bank of India's official website. We are mentioning the steps here minimally.
First, you have to search for the Central Bank of Indian net banking and click on the first appeared link. That will take you to the Central Bank of India net banking site. Now, select the net banking option from the left-hand side icons.
It will redirect you to CBI net banking main page, where you can log in to your Personal Banking option. Here, click on the log-in to process the same, and then you will have to fill up your User Id and Password for your net banking account. Remember one thing you have to register first, only then you'll be able to download the PDF.
Log in to the net banking account, you may need your CIF number here. After that, click on the Enquiry option at the top of the next page to see the rest options it is giving. You'll find a Statement of Accounts option in between them. Then, the next page will open for your account details. Clear the page by filling in all required places and click the download button. You have to choose the type you want for your statement to be downloaded to your registered mail id.
This is the simplest way to download your Central Bank of India account statement. Though you can download the statement PDF to the mail through the Cent M-Passbook app.
Steps to Open CBI Bank Statement PDF Password
Every bank has a growth mentality that they manifest by providing many securities and facilities for banking. Central Bank of India has grown so far to serve its customers with different types of banking activities that can make their bank works easily and conveniently. Customers' bank account statement downloads and PDF file protection with individual passwords are one of them.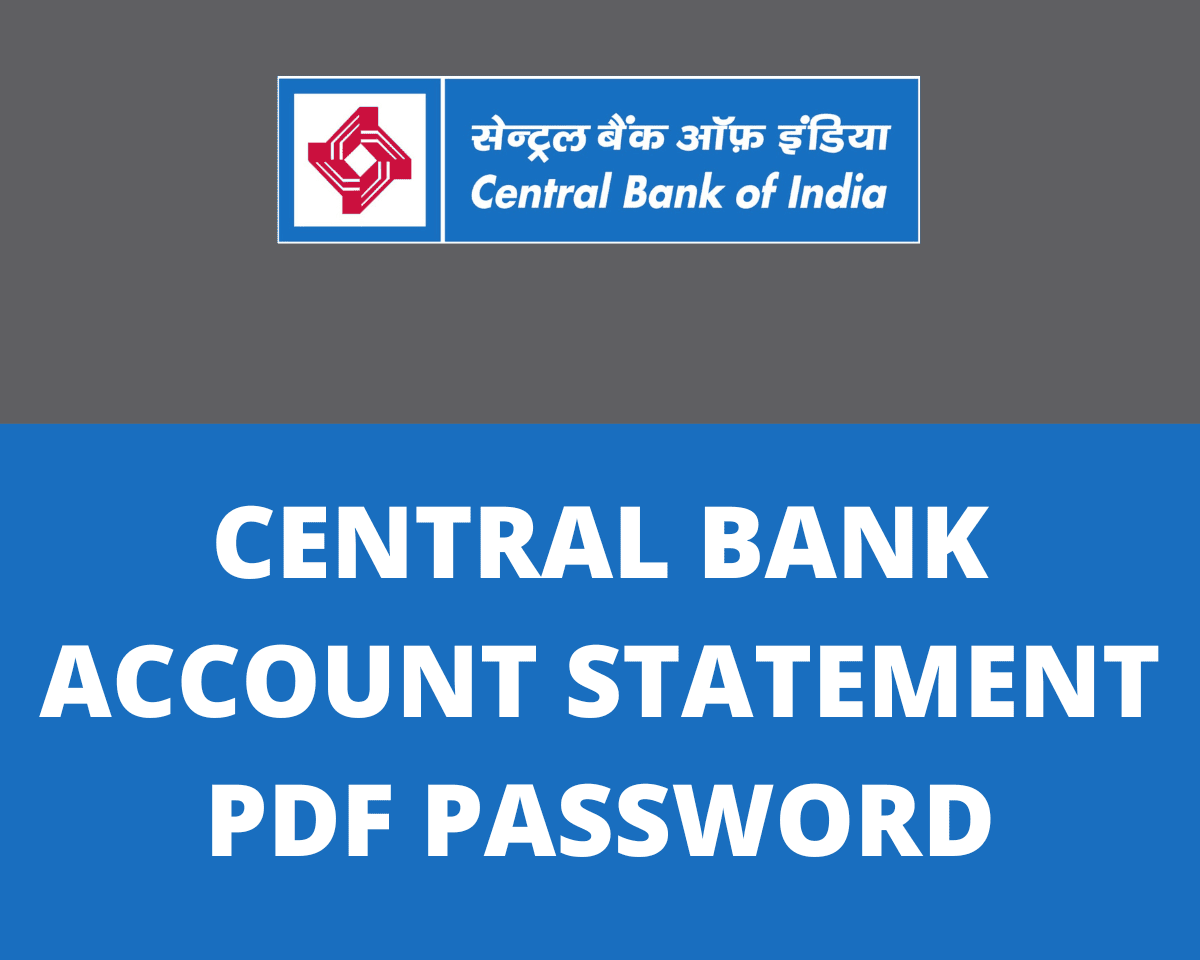 Now, you have to understand the passwords will be different from each other to make it personal, and it allows the bank also to maintain privacy ethics. However, you can open your statement PDF with two different passwords, which means CBI has the two-way possibility to open the account statement PDF.
The first password for the CBI account statement PDF is the customer's Customer ID, which is available on the passbook or checkbook front page. And the second password is your name and date of birth jointly. This Customer ID is individual from customer to customer. Now, you will know the opening process of the PDF to work over that.
Once you click on the download button, the PDF will be sent to your registered mail id straightly. You have to download the file to your device first before opening it.
After downloading the file, put in the password that you can remember at once. This password will help to maintain confidentiality.
For example, if you use Customer Id as a password, you have to put 9060778234. Another way, the first four letters of your name and then end it with the date and month from your date of birth. Like, suppose your name is Vivek, and your date of birth is 16th November 1988. Here, you have to put in vive1611.
This is the easiest way to unlock the Central Bank of India account statement PDF file.
Conclusion
Nowadays, Indian banking has been so progressive that no one will face any kind of issues during bank work. We still try to figure out more problem-solving articles for your beseech. This article may offer you some information regarding your enquiry. The Central Bank of India's official website has a lot more potential to provide services according to your requirements.