State Bank of India is one of the earliest and largest commercial banks in India. It was established in 1955 and has its headquarters in Mumbai. SBI provides many facilities for the ease of banking services to its account holders. If your SBI atm is lost or stolen, you have to block it immediately. To block SBI ATM through SMS, your mobile number should be registered for SBI missed call banking.
SBI Quick Missed Call Banking is a free service provided by SBI to their account holders. The customers of SBI can avail of this service to get all the details concerning their account, by placing a missed call or by sending an SMS through their registered mobile number to the predefined number of State Bank of India.
SBI has provided various numbers for their services. Each service has its unique predefined mobile number. This facility allows the account holders to access their accounts quickly at a click.
Registration Process
To register and avail of the services of SBI Quick Missed Call Banking, you can follow the following steps:
For android users, you can download and install SBI Quick App from Google Play Store. For iOS users, you can download and install SBI Quick App from the Apple Store.
Once installed, you can register on the app. As soon as you will open the app, you will find many icons on its interface. Click on 'Account Services' in the 'Without Login' section of the page.
After clicking on the account services, you will be led to the next page. Just below the heading, 'Domestic' you will find an option to register yourself on the app.
After you click on the 'Register' button, a window stating 'Register Your Mobile Number For Missed Call Banking' will open before you.
Enter your registered mobile number in the provided space and click on 'Submit'. After clicking on the Submit option, you will further proceed to the message screen of your mobile phone.
SBI's predefined number for registration, i.e. 07208933148 will be written automatically and in the message section 'REG Account Number',i.e. your account number with SBI in digits will be typed beforehand. For example, your eleven digits SBI account number is 01122334455, so the text will be 'REG 01122334455'
As soon as you send this message, SBI will confirm your registration by sending you a text message in return.
This way, you will be successfully registered for SBI's Quick App services.
After installing and registering your mobile number on the app successfully, you need not have an active internet connection.
Since all the communication takes place through missed calls and SMS services, internet connection does not play a vital role.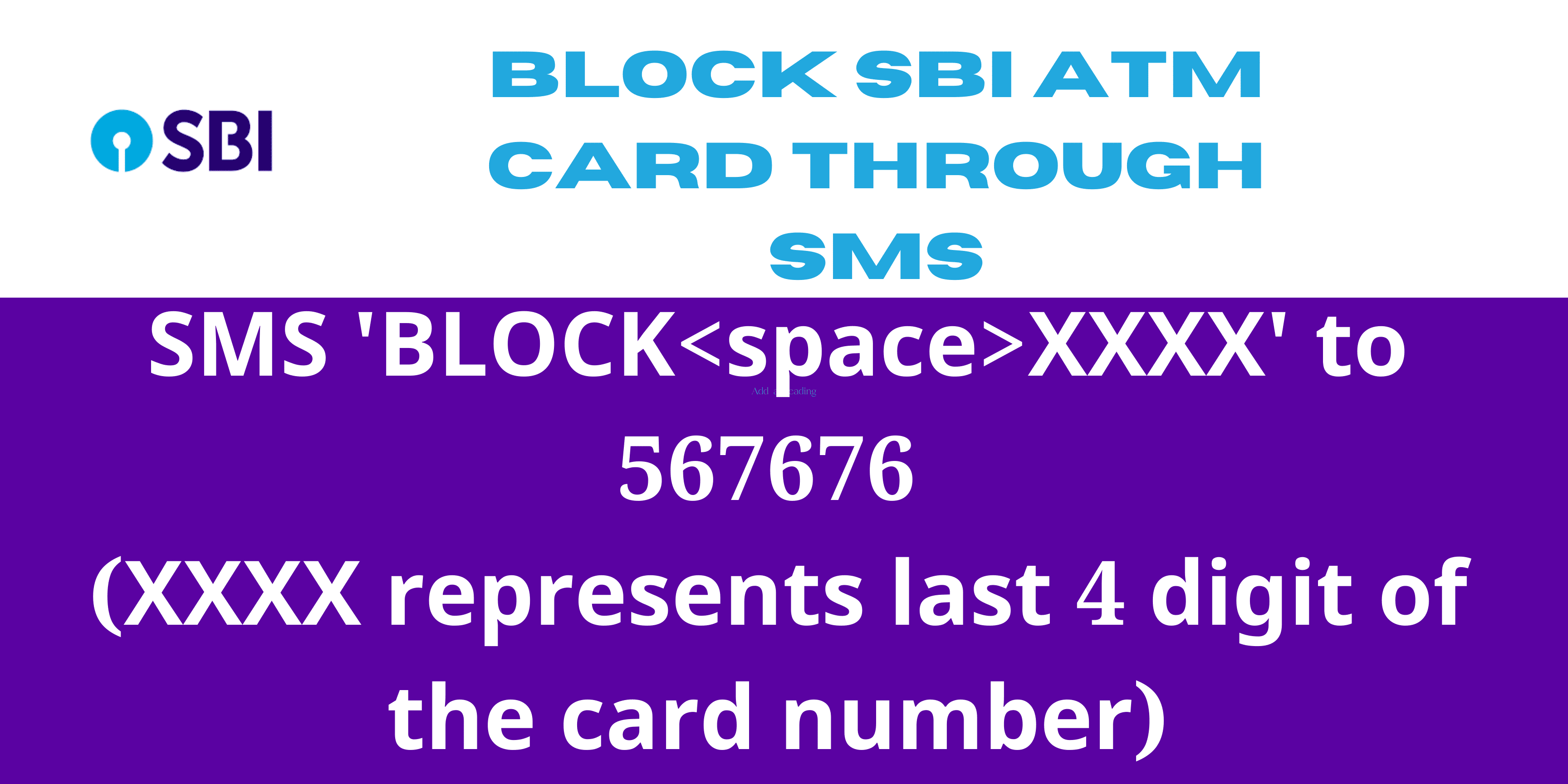 Blocking SBI ATM Card through SMS
In case you have lost your ATM Card or if it is stolen, you can now block your ATM card with a click, without even actually visiting the physical SBI branch. You can block your ATM card issued on your registered mobile number through the facility of an SMS provided by the SBI.
To block your ATM card, you can type 'BLOCK' and the last four digits of your ATM Card number and send this text to the predefined SBI's number available for this service through your registered mobile number to 567676.
For example, your sixteen digits SBI ATM card number is 1234 5678 8765 4321. Then, to block your SBI ATM card you need to type 'BLOCK 4321' and send this message to 567676.
Once, your request for blocking your SBI ATM card is accepted, SBI will send you a confirmation message through an SMS. The SMS alert from SBI contains the ticket number, date, and the time of blocking your ATM card.
By following the method given above, you can easily block your SBI ATM card through an SMS.
Conclusion
In this dynamic environment, even SBI is launching its new services for all their customer needs. Unlike the traditional banking methods, SBI has now opted for modern banking techniques. This technique, not only saves the time of the SBI bank employees but also the time of its account holders. This is the reason, why many people still choose the State Bank of India as their primary bank over the other banks in the nation.
But with modernization, comes several responsibilities of alertness and carefulness. One must only rely on the official website of SBI or its official app for their banking needs and availing of the services.