Nowadays, almost every sector is getting online, be it education, health and in this list banking is also included. The banks are also offering their services in digital forms like net banking, mobile banking, SMS banking, and many such services to ease transactions and convenience of its account holders. Registering your mobile number with the bank is a sort of crucial thing nowadays as the mobile number facilitates you in getting the alerts, using mobile banking, missed call Banking, and SMS Banking.
On registered mobile numbers, the bank sends the details regarding the transactions and OTP. Sometimes, due to certain reasons, you may require to change your existing mobile number. In this article, we'll discuss how to change or register your mobile number in Yes Bank.
Yes Bank Limited is a well-known private sector bank in India. The bank has its headquarters in Mumbai, founded in 2004 by Rana Kapoor and Ashok Kapoor. It provides a wide range of advanced facilities to its customers. In the year 2020, the Reserve Bank of India (RBI) took control of this private sector bank to prevent the collapse of the bank.
Now, Yes Bank is owned by the State Bank of India with a 30% stake in the organization. Without any further ado, let's get started with a step-to-step guide to change or update your mobile number in Yes Bank.
Step-to-Step Guide to Change/Update your mobile number in Yes Bank
1. Register or Change Mobile Number through Branch
Following are the steps mentioned below to register your mobile number in Yes Bank by visiting the home branch:-
Step 1: Visit the Yes bank home branch along with crucial documents such as a copy of your address proof like Adhar Card, Passport, Passbook, etc.
Step 2: Approach the Bank Account Executive or Relationship Manager and request for Registration and Modification of Mobile Number form for updating mobile number.
Step 3: Fill the Registration and Modification of Mobile Number form providing all the following required essential details:
Your bank account details like account number, name of the account holder, type of account, etc.
Tick mark or write the information which you want to change or update like here it is changing your registered mobile number.
Write your new Mobile Number in the given space.
Put your Signature wherever needed.
Don't forget to jot down your new mobile number.
Step 4: Once you fill in all the important details, submit the Registration and Modification of Mobile Number form along with the copy of your Identity Proof (if asked) to the Bank executive.
Step 5: Bank Account Executive will authenticate all the details you provided in the form. Once he validates all the information you mentioned in your form, he will give you an acknowledgment of your request.
Step 6: Once your information is verified, your mobile number will be updated in your bank records.
You will get a notification from Yes Bank either via SMS on your new registered mobile number or email regarding the completion of a request for changing mobile number within a few hours. And if you don't receive any notification in case, contact your branch for confirming if the changes are processed.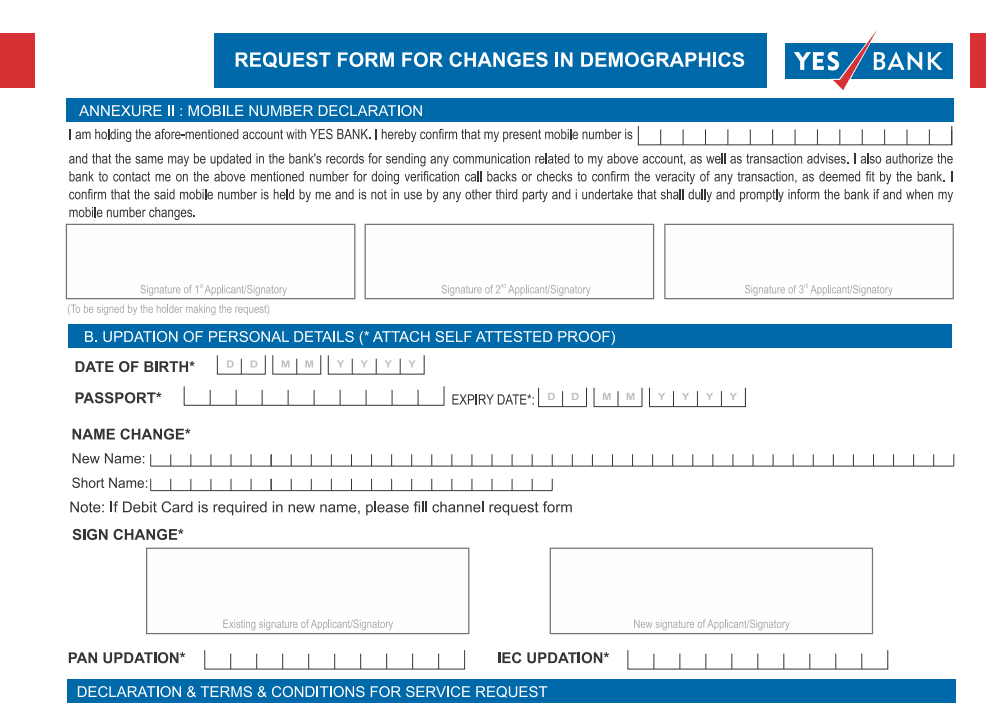 2. Register or Change Mobile Number Through ATM
For changing/updating your mobile number in Yes Bank via ATM follow the steps given below:-
Step 1: Visit the nearby Yes Bank ATM machine and insert your ATM card in the machine.
Step 2: Choose your preferred language in which you want to use the machine.
Step 3: Now, choose the 'Registration' option from the main menu.
Step 4: Enter your 4 digits ATM PIN number.
Step 5: Now, choose "Mobile Number Registration". After that, from the two options displayed, choose "Change Mobile Number".
Step 6: On the next page, an option to enter a new mobile number will appear. Enter your New Mobile Number and press confirm.
Step 7: You will get an OTP and a Reference number on both of the mobile numbers (Old Yes Bank account mobile number and New Mobile number)
Step 8: After you receive an OTP, send a message from both old and new mobile number within 4 hours in the following format and to the number provided below:
ACTIVATE
Send On: 567676
from both of the mobile numbers.
3. Register Mobile Number for Yes Bank SMS and Missed Call Banking
To take advantage of SMS and missed Call banking, you to activate your mobile number for these facilities. To activate these facilities, you have to type 'YESREG Cust ID' and send it to +91-9840909000 from a registered mobile number with a bank account. Where Cust ID is yes bank account customer id that can be found on passbook.
| Yes Bank Services |  Contact Information |
| --- | --- |
| Toll-Free Number | 18001200 |
| From Outside India | +91 22 4935 0000 |
| USA | 1833 380 0149 |
| CANADA | 1833 491 0559 |
| UK | 800 048 9153 |
| UAE | 8000 3570 2510 |
| Corporate Queries | + 91 22 4935 0000 or + 91 22 6669 9000 |
| Tiiming | 8:00 AM – 8:00 PM |
| Email | [email protected] |
Conclusion
Thus, the above were the three ways through which you can change or update your mobile number in Yes Bank. You can change your mobile number from any of the above three ways at your convenience.