Airtel is the biggest networking company in India, and it's been the most used telecommunicating platform since 1995. At first, Airtel was created as Bharti Airtel, headquartered in New Delhi, and gradually turned into the brand Airtel on 20th December 2010. Presently, it provides 4G and 4G+ services all over India as phone network services. Apart from this, Airtel has grown with India's first payments bank, named Airtel Payments Bank, since January 2017.
This Bank provides services like opening a bank account at our convenience, NETC Fastag, Digital Gold, video KYC, Airtel Pension Yojana, etc. Airtel Payments Bank is now one of the scheduled banks by the Reserve Bank of India on 5th January 2022 under the second schedule of the RBI Act, 1934.
People use banks for their financial activities and for advice that helps to grow and save their earnings for the future. No one usually wants to close a bank account as it contains information related to economic stability. Moreover, a bank account closing is always an uncertain decision for a person when it's about the security of hard earns and another option of banks.
People can have numerous reasons to close a bank account, and one of them is several bank accounts with the same documents, which are utterly strenuous to maintain. Airtel Payments Bank closing can have similar reasons for its customers. Though, Airtel Payments Bank has a mobile application to make banking convenient. This app is about quick mobile recharge, bill payments, money transactions from bank to bank, etc.
Airtel Payments Bank Account Closing Methods
You are here because you have a bank account with Airtel Payments Bank and want to close it. It can be possible online as well. Since it is a digital bank, you have to have an account in the digital medium. Now, we are clearing the methods that you can use to close your Airtel Payments Bank Account.
1. Via Email Medium
Email is a way to close the Airtel Payments Bank account instantly. There you have to send a mail to [email protected] with the request to close the bank account. The Airtel Payments Bank will send back an inquiry email to you asking for your ID proof and address proof you have registered with your bank account.
You can revert with the attachment of your Adhaar Card and Pan Card's scanned copy. Once you send the copies of them, the bank will start to proceed with the request for account closing. After completing the closure, you'll get another mail from Airtel Payments Bank notifying the same.
2. Through Airtel Payments Bank Point
It's another way to close your Airtel Payments Bank account permanently. Airtel company has launched Adhaar Enabled Payment System banking point to get banking facilities quickly so that customers can enjoy digital banking at ease. People can visit the Airtel bank point to access their digital banking services. It's an application that needs to be installed on your phone for further access.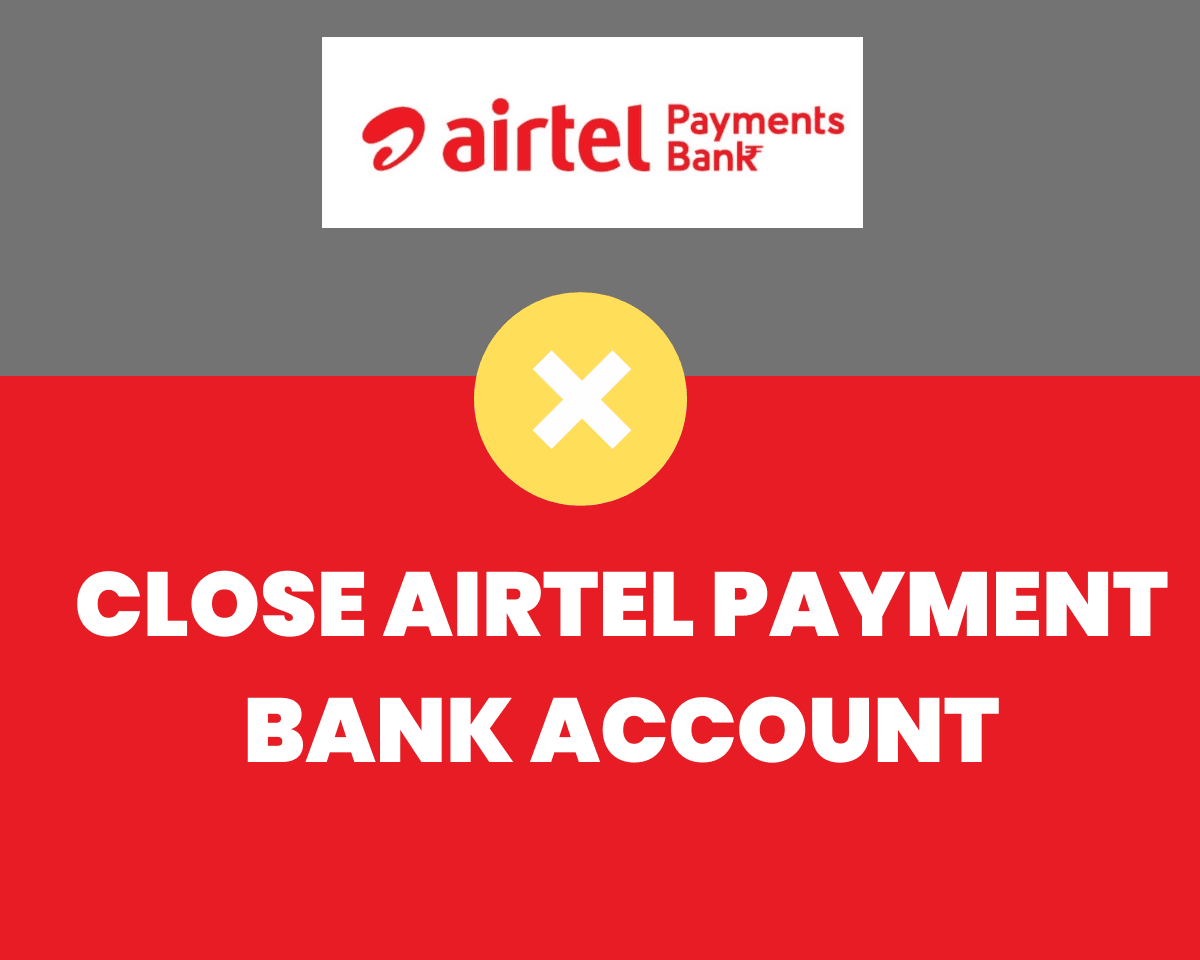 Here, you need to request to close your Airtel Payments Bank account on this app. The application will also ask for similar information and documents for proceeding with the request. After submitting the documents of Adhaar and Pan, you will get a notification on the registered phone number of your requested closure.
3. Customer Care Call
Every bank has a toll-free number for its customers to call for any banking-related issues on its official website. Airtel Payments Bank is also not different from them. Airtel Payments Bank's customer care number is 8800688006, and you can also call on 400 to talk to their customer care executive. You have to inform them of the request for your Airtel Payments Bank account closure, and they will ask for a genuine reason behind this request.
Here, you have to mention the actual cause for it and give an application for the withdrawal of the left amount in your bank account. The address and ID proof is must need for further processing of this request. To complete the closure, usually, the Airtel Payments Bank takes 7 days. You will get a notification once the closure is complete.
Some Information Keep in Mind Before Airtel Payments Bank Closing
Since a bank account closing is a vital decision for any customer, some information needs to keep in mind before take the decision. We are mentioning the same below.
Once your bank account is closed, the bank won't allow you to reopen it. So whenever you will determine to close your bank account, make sure you won't need it in the future.
You must clear if any hold amount is there associated with your account. While processing the closure, the bank will inform you about your hold balance.
D-link your account from other banking facilities like FD, RD, and Lockers if there are any. Because banks are not allowed to close customers' accounts until it is completely single.
Prior to closing an account, you should save the bank documents in soft copies for the future. It is necessary when it comes to banking statements.
Conclusion
A bank account closing is neither easy nor hectic. Every bank has some similar processes to open and close an account. Airtel Payments Bank is versatile financial inception that provides multiple unique economic ideas to its customers. Airtel Payments Bank allows one to open a bank account with zero balance and maintain the same. It helps us to handle our banking in need from anywhere and everywhere.
The above-mentioned methods are the best ways to close your Airtel Payments Bank account at once. You can choose any of them for your request. Though it will take at least 7 working days to complete the closure of your bank account, any of the mediums you use, the bank will notify you on your registered number for your concern.
After the closure, if in case you need to know anything about the previous account, you will need to visit the bank on your own. For any further guidance concerning the bank account closing, visit Airtel Payments Bank's official website.