Banks can be both, either private or government. But it gives the same facilities and privileges to its customers. Usually, people use banks for their money safety and future savings. However, banks are more than that nowadays, and the facilities it provides are beyond expectations. Digital India made every bank digitalized now, and banks have their official website to serve their customers in a modern way that makes banking effortless.
Customers will get every banking facility on the website that they get offline by visiting the bank, like account opening, personal banking, business banking, NRI banking, instant loan on the credit card, etc. Still, people can choose to close their bank account at any point for valid reasons.
This article is about Citibank, and it's a foreign bank that was founded in 1812 in New York. It has had its Indian headquarter in Bandra Kurla Complex Mumbai, Maharastra, since 1902. Citibank is a subsidiary of Citigroup and a multinational financial services corporation. This bank has almost 45 branches all around India that serve its customers with a lot of potential advantages and directly connects with the New York main office to look after every working process or system going on in India.
Citibank has a separate salary account facility that refers to a Corporate Salary Account for its customers who want to have it named Citibank Suvidha Account. However, this account perfectly fits customers' needs with Citibank products, powerful debit cards, 24X7 access to digital banking platforms, etc.
Reasons For Bank Account Closing
Here, we are mentioning below the fact for people can choose to close their Citibank account. If you are not satisfied with the bank's service or any other harassing activity, you can decide to close your Citibank account permanently. Some of the reasons are listed below.
Bank staff's behavior problem.
High rate for money transactions.
Unprofessional service from the bank.
Interest rates are low for the customers.
Unable to handle multiple bank accounts.
Bank account maintenance charges are high.
Dormant account.
Unused salary account maintenance is hectic.
These can be the reasons for Citibank's account closing. Though not necessarily every mentioned reason will be there for the same, some of them can be relatable. As Citibank is a foreign bank, it can have some safety rules or terms to maintain for its customers. Apart from this, few people will decide to close it.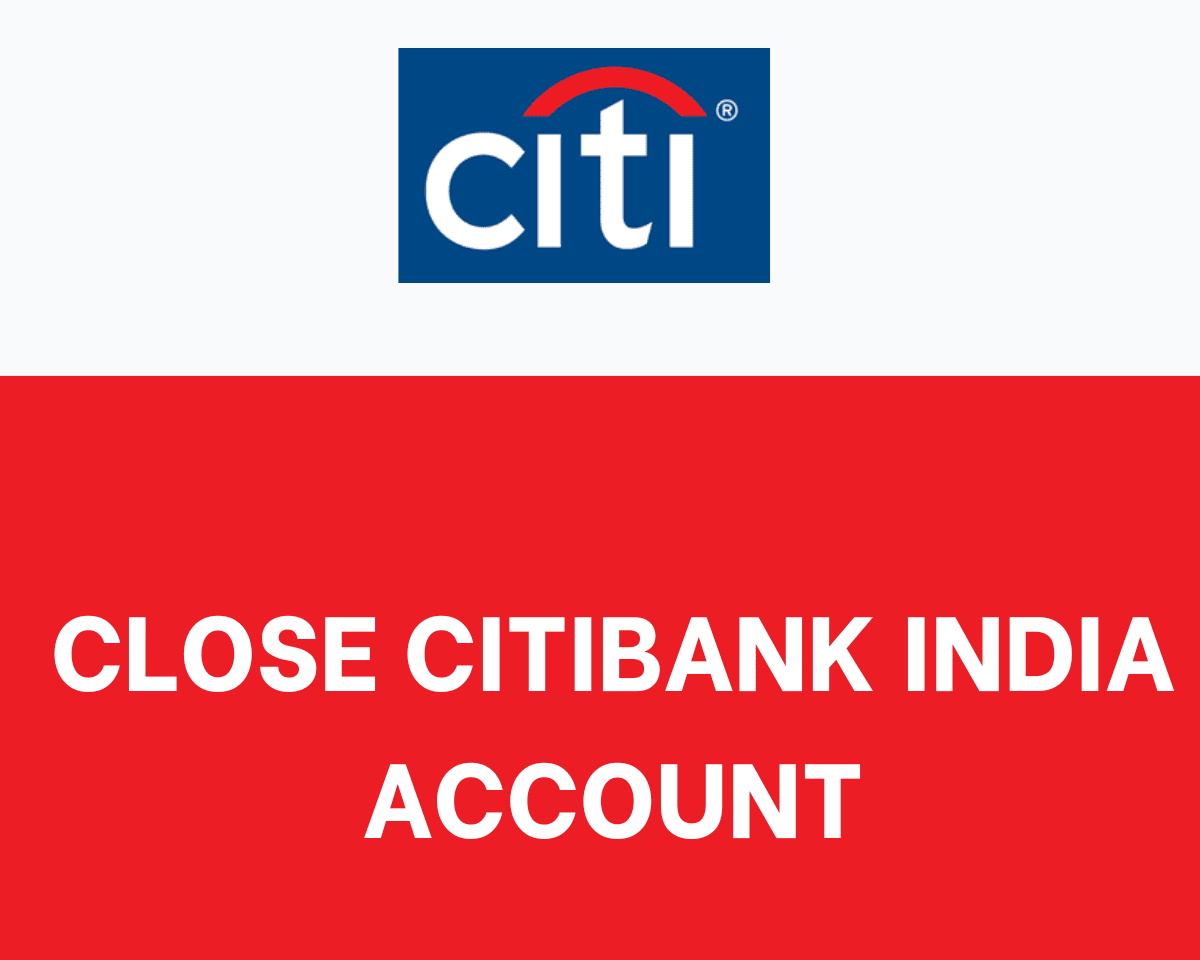 Ways to Close Citibank India Account Online & Offline
Every bank has some steps to close its bank account. Citibank has no difference at all. But here, you can download the closure form online without visiting the bank branch. We are mentioning the steps below to look into it.
Important Note: You have to clear your account balance if there is any. It's mandatory before permanently closing your bank account. Any left amount will be wasted if you forget to transfer it to any other bank account. Make sure you don't have any negative balance with the bank account or any kind of loan continuing. Customers can transfer their left amount via CitiDirect.
1. Close Citibank India Account By visiting Branch
For Citibank account closure, you can visit the bank personally. Either you can bring a closure form from the bank or can download the same from the Citibank official website that has given a link.
Step 1: Fill the form up with all the relevant data, including the account details. If you do it in the bank, you will need to bring your bank documents like a passbook and checkbook with you, or else doesn't need them. Keep in mind to clear and understandable the form. Don't overwrite any sentence or word that will confuse the bank staff.
Step 2: Make sure to emphasize your account KYC. It's necessary to add to the closure form. Your Adhaar Card or Pan Card may need to confirm your address with the bank's data. These crucial documents will also help to verify your KYC with the particular account.
Step 3: Mostly, the bank asks to submit a checkbook if any pages are remaining. But you need to submit your bank account passbook at the time of closure form submission. Other than this, debit cards and other bank account papers are invalid to the bank after account closing.
Step 6: Go through the form after filling it up totally for sure. It will give you assurance about if there's any mistake being overlooked. Make sure to do the signature at the right place and not be too clingy. The signature should match the one in the bank's data.
These all steps are absolutely mandatory to follow. Now, if you downloaded the account closure form and continue filling it up in your home, you have to visit the bank to submit it. Since the bank only provides the link to download the form, not to submit it online. Another thing you have to keep in mind is to write an application to the branch manager of Citibank, enlighting the fact about your bank account closing request.
2. Close Citibank account via Live Chat
To close your account online, you can take advantage of the Citibank web chat feature. Log in to your Citibank online account and open the live chat feature https://chat.citibank.co.in/IN/WebChat/. You will be connected with a Customer care representative. They will verify your account information and initiate account closure. Citi Live Chat facility is available from 9.00 a.m. to 6.00 p.m. IST. So try this feature during working hours only.
3. Close Citibank account through CitiPhone helpline
You can also close your saving account by calling on CitiPhone helpline number. When you get connected with a Customer care representative, tell them you want to close your saving account. They will verify account ownership by asking some account-related questions. After verification, they will initiate the account closure process.
| Type of Service | Number |
| --- | --- |
| 24×7 CitiPhone helpline Number | 18602102484 |
| Calling from outside India | +912249552484 |
Conclusion
Just like other banks, Citibank's account closing is similar. People nowadays prefer to solve banking issues over the bank's official website, and the website has every little banking facility to serve them. This website shows a quick way to reach your banking queries. The expert says since Citibank has limited bank branch access in states, most banking work customers do on online platforms.
Here, Citibank refers to the Board Resolution or trade register for the verification of authorized signatories about the application. To the process, you have to make sure Citibank holds the most recent form called Global Manual Transaction Authorization(GMTA), with a valid call-back nominee system. We hope this article, with every single detail, will help you process the closing procedure.