Account Id and customer ID is a unique number issued to every Bank account holder. If you are an account holder in Karnataka Bank and you want to check out your customer ID and account ID in Karnataka Bank then here we will be going to discuss it.
Methods to check Karnataka Bank account Id and customer ID
1. Through Passbook
The passbook issued to account holders has both account ID and customer ID mention. One can easily understand that the account ID is the account number and under the account number somewhere on the same page customer ID is written. A user needs to check it out.
2. Through account statement
If you have just generated the account statement, then on the same as well customer ID and account Id is written. You need to check out the account number mentioned. This is your account ID. And on the other side, the customer ID is mentioned.
3. In a Welcome letter or Chequebook:
After opening the bank account, when you will receive a welcome letter or Chequebook from the bank, the same also has the account Id and customer ID mention. In capital letters, the bank account number and customer ID is mentioned. You need to check it out and write it wherever it is required.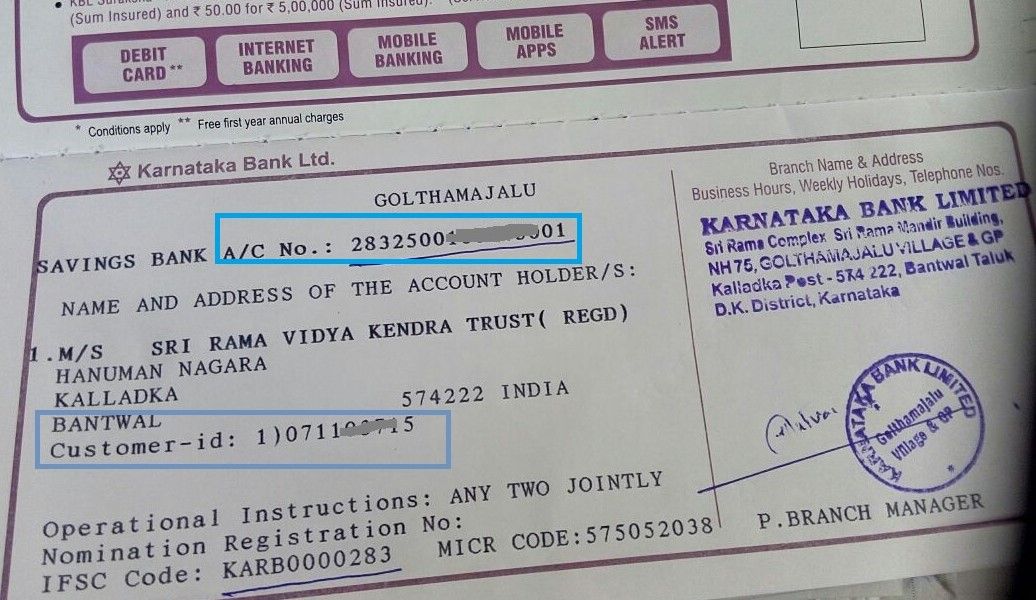 4. By calling customer care
When you will call Karnataka Bank customer care toll free number 1800 425 1444, and ask for a customer ID and account ID, then you need to submit the basic details. They can ask for your identity proof number, date of birth, name, and so on. If you have the passbook available, then you can let them know about your account number, and they can let you know about the customer ID.
5. By visiting branch
If you do not wish to engage in any trouble, then you can visit the nearby Karnataka Bank branch. Here the executives are available and provide them with your basic details. Your basic details including date of birth, name, and valid ID proof number will help them to get available with your bank account so that they can easily tell you the customer ID and account ID.
Services
Contact details
Customer Care number
1800 425 1444
Email
[email protected]
Head office
Karnataka Bank Limited,
Post Box No. 599.Mahaveera Circle,
Kankanady, Mangaluru-575 002.
Dakshina Kannada Dist.
Karnataka State.
Conclusion
Customer ID and account Id is very beneficial for an individual because it will let them engage in various activities. Whenever you are looking forward to the transaction, the account Id plays a very important role. Also, the customer ID will let the individual get access to the net banking services easily.