Indian Overseas Bank is a national bank that follows the norms presented by the Reserve Bank of India. The bank has been delivering abundantly convenient services and facilities to its customers in the public banking sector.
Having an account in an Indian overseas bank means enjoying a lot of facilities and services offered by them. One such feature this bank offers is the regular notifications and information their customer gets through SMS or call. They ensure to keep their customers up to date with bank policies, new offers, etc. They also, just like other banks, always send their transaction details and account info via SMS.
Due to all these important information sent via SMS or call, the customer registers mobile number is of utmost importance. The bank keeps all the customers' contact details very closely for any sudden need to contact them and send them details from time to time.
Steps to Register or Update Mobile Number in Indian Overseas Bank
Now comes the question one may ask, i.e., how to register their mobile number with the bank? People who have already registered their mobile numbers might also ask how to change their registered mobile numbers. The answer to these two questions is just some simple steps one must follow.
Go to the home branch
The first step for registering/changing a mobile number is to go to the Indian Overseas Bank home branch and to bring along address proof and id proof.
Obtain Mobile Number Change Form
Them, one must meet the Account Executive of the branch and request for a KYC Detail Change Form or the Mobile Number Change Request Form.
Fill up form
This is the most crucial step. Here, one must fill-up the KYC detail change form thoroughly. The form requires you to mention some of the following details.
Your bank details like account number, account holder's name, type of account, etc.
Choose or tick the box depending on whether you want to change a registered mobile number or register a mobile number.
Write the new mobile number in the provided space in the form.
Sign the form on the stated location on the form.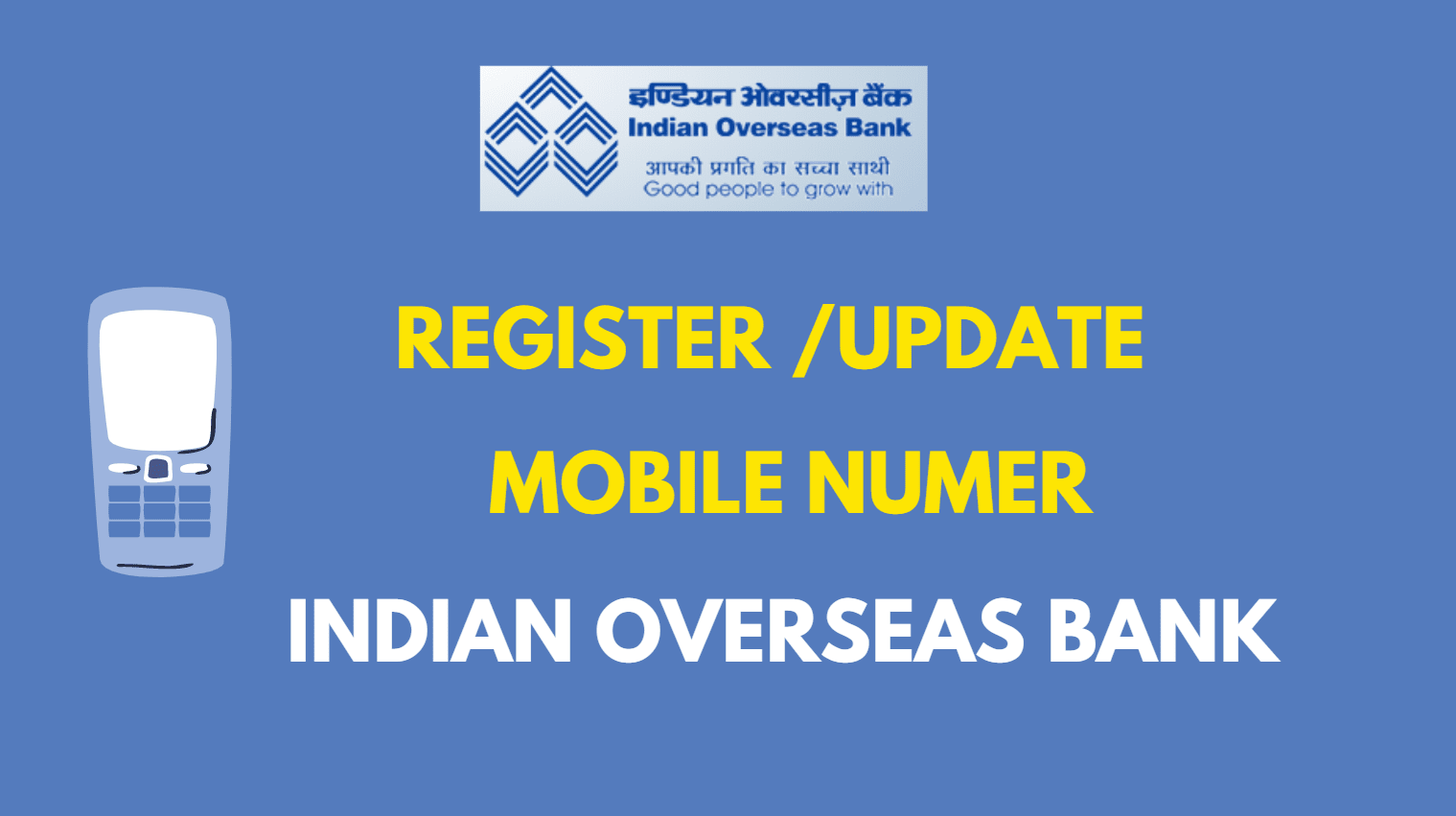 Submit the KYC Detail Change Form
Then, one must submit this duly filled KYC detail change form along with the Proof of Address to the Bank executives.
Acknowledge your request
The bank executive will then verify and check your form, signature, and other details. If he/she finds the form complete in all respect, he/she will give the acknowledgment of your request.
Processing your request
After processing and validation, the IOB Bank officials will register/change your mobile number in your account and bank records. And then, you will receive a message regarding it in your new registered mobile number.
Conclusion
Registering or updating a mobile number in the Indian overseas bank is quite simple if one accurately follows all the steps. The process is fast and requires only one or two documents from your side.