Banking sectors have digitalized reducing the hassles of traditional banking. Indian Bank is one of the leading banks in public sector. To improve its banking services, Indian Bank adapted the modern tech facilities with an aim to satisfy its customers with its excellent banking services.
If you have an account with Indian Bank, you need to obtain the CIF number provided by the bank to every customer. CIF number is a unique set of digits. Indian Bank delivers CIF or Customer Information File number in a set of 9 figures.
CIF is a digital file that stores account and personal details of the account holder. Banks link the CIF number to the account of the customer. There are numbers of works connected with CIF number. Every account holder has the right to obtain CIF number.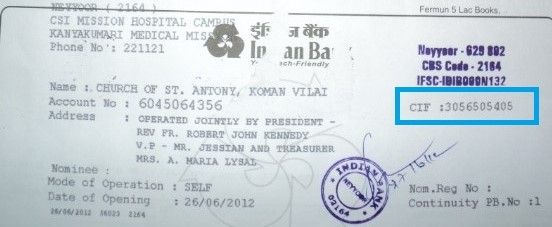 5 ways to Find your CIF number in Indian Bank
If you have your Indian Bank passbook, open the first page to find the CIF number printed on the first page.
You can make a call to customer care and request to obtain CIF number. Dial 180042500000 (toll-free) number from your registered mobile. Once your call gets connected with the customer care executive, you need to request to obtain your CIF number. You have to provide few details like account number, name, and address, etc. for verification purpose.
You can also obtain your CIF number by visiting the branch. Meet the account executive and request to provide your CIF number. You need to provide your account details as well as personal details for verification purpose.
If you have access to Internet Banking, you can collect the CIF number online from profile section after logging in to your Net banking account.
You may obtain the CIF number from the Chequebook as well.
These are the best ways to obtain your Indian CIF number. CIF number is quite helpful in mobile banking. The banking officials refer CIF number to collect banking details of any account holder. With CIF number, tracking the personal information of the account holder and gathering info about transaction details is quite easier.
Every account holder gets a unique CIF number from the bank. If an account holder has multiple accounts at the same bank, the bank assigns a single CIF number and links all the accounts with the number. You need to note down your CIF number for future reference. CIF number makes it easy to transfer your account from one branch to another!