APGVB stands for Andhra Pradesh Grameena Vikas Bank and it was established in 2006 with its headquarters in Warangal, Telangana, India. Before starting with the main article let's get to know the history of APGVB Bank.
The bank is established as a regional rural bank as per the regional rural banks act of 1976. In 2006 Andhra Pradesh Grameena Vikas Bank was created with the merger of 5 banks. The banks which went through this amalgamation are Manjira Grameena Bank, Kakathiya Grameena Bank, Sangameswara Bank, Sri Visakha Grameena Bank, and Nagarjuna Grameena Bank.
The government of India has a 50% of the stake, the State Bank of India has 35% of the stake and the Andhra Pradesh government has 15% of the stake in APGVB bank. As per the report for 2020 Andhra Pradesh Grameena Vikas Bank has a total number of 2,761 employees. The bank covers 5 districts in Telangana and 3 districts in Andhra Pradesh.
In this article, we will tell you about the balance check number of APGVB Bank and how you can get all of your queries solved.
APGVB Bank Missed Call Balance Check Number
There are different numbers for customers of APGVB Bank for balance enquiry. Customers of Andhra Pradesh Grameena Vikas Bank are not required to stand in a long queue to get information on their bank account balance.
You can give a missed call on the 9289222024 number to avail of the service. This given number is specific to knowing bank account balance. When the customer gives a call to this number the call will automatically get disconnected. After a few minutes, you will receive a text message from the bank carrying your bank balance information.
However to receive bank balance notifications from the bank of his/her account the customer has to give the missed call from his/her with the mobile number which is registered with the bank and to his/her account.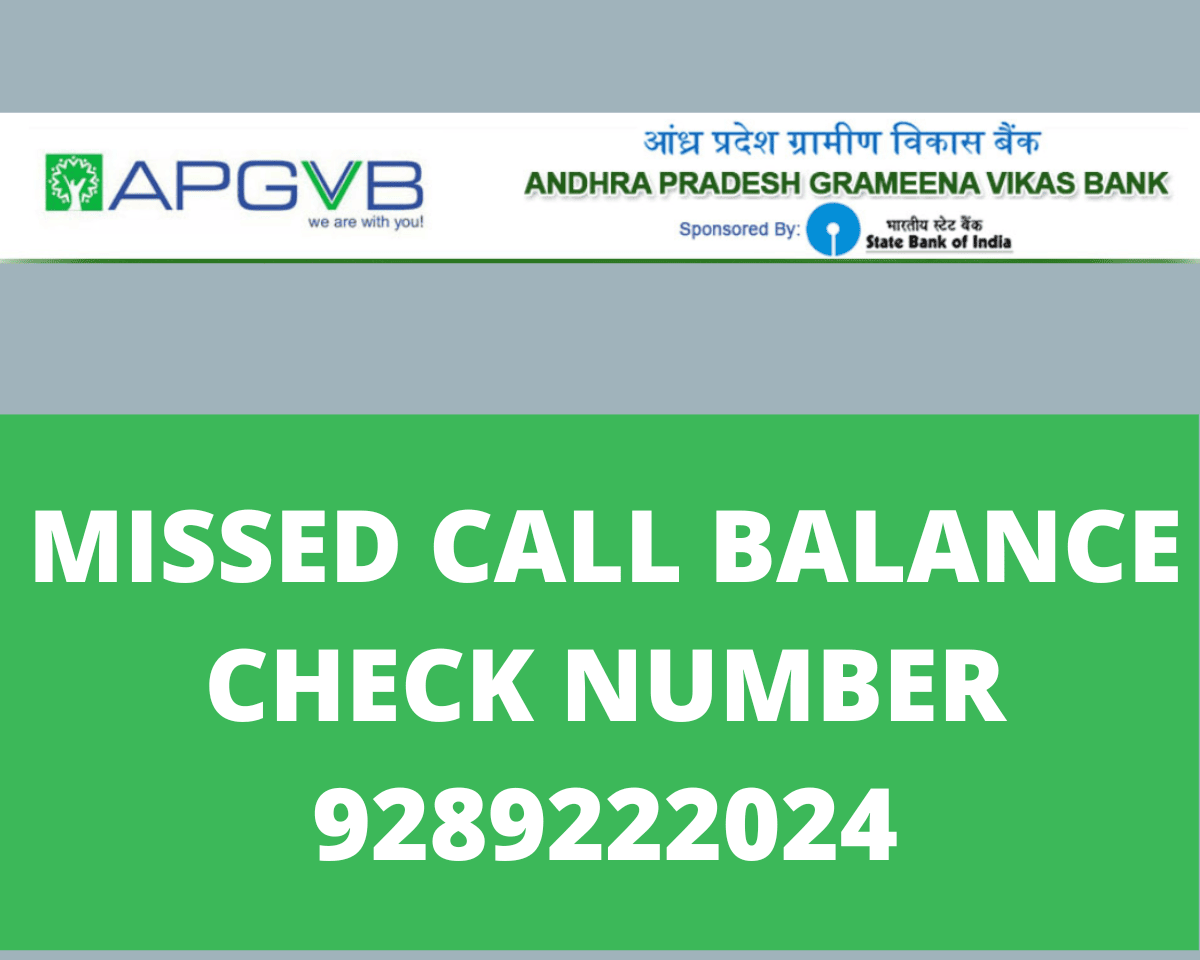 Few Other Enquiry Number
9289222024: Missed call number to enquiry about the latest bank balance.
18001210354: Toll-Free Number to enquiry about all the other services.
[email protected]: Email ID to send typed enquiry or complaints. Works best if anyone wants to change numbers, close bank accounts, etc.
| Services | Contact |
| --- | --- |
| Missed Call Balance Check Number | 9289222024 |
| Toll-free number | 18001210354 |
| Mini statement | NA |
| Email ID | [email protected] |
Other Services Of Andhra Pradesh Grameena Vikas Bank
As digitization is quite popular nowadays Andhra Pradesh Grameena Vikas Bank also provides its customers with the freedom of paying anywhere cashless. You can use Andhra Pradesh Grameena Vikas Bank's mobile banking app called 'APGVB MobilBanking' to pay anywhere cashless.
The registered mobile number with the bank account under Andhra Pradesh Grameena Vikas Bank is used for mobile banking services. So it's a must to make sure that the customer uses his mobile number so that he can receive notifications all the time whenever any online transaction is made.
Other than this, Andhra Pradesh Grameena Vikas Bank also has software that can be used for all sorts of banking operations which are related to the Bank from the comfort of your home. The customer can freely use the software to know his account balance, transfer money, see statements, etc.
Conclusion
The above-given number 9289222024 is specifically for the Bank balance enquiry number. However, customers of Andhra Pradesh Grameena Vikas Bank can dial the toll-free number 18001210354 to inquire about their other doubts or problems with the Bank.